By Arielle Tellado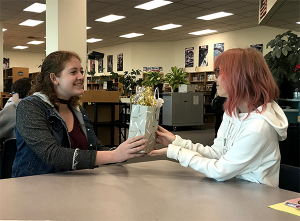 Thoughtful gifts can be hard to come by without dollar signs falling out of everyone's pocket. Without a job or any other form of cash flow, it can become difficult to get beloved friends a gift that they will love. Creative and cost effective projects for friends show them that it's the thought that counts.
"Sometimes I have money issues during the holidays, without a job and all. I wouldn't be able to get all of my friends equally good gifts, so we've resorted to doing secret santa," Aspen Steele, freshman, said.
Memories can be tear jerkers for long time friends or family members. Photo albums and scrapbooks are great gifts, so they can reminisce on the relationship for years to come. Putting together a little caring collage can help better display goofy pictures. Physical photos cost 15 cents per picture at places like Walgreens. Also include notes, movie tickets, and inside jokes and other mementos that will have them smiling.
Spice up this gift by using a pinboard that can be hung up. Swing over to the Dollar Store or Walmart and pick up a bulletin board, some snazzy pins, and it's ready to decorate to make this present as eye-catching as possible. Try painting or covering the edges with colors to match their room.
Another more technological way is to create a compilation of memories, funny videos, and a meaningful video explaining how much you appreciate them. Hopefully, they will appreciate you expressing love for them and watch it over and over again. Free apps like Flipagram and Splice are easy to maneuver, keeping your video clean without choppy jump cuts or overlapping audio.
"Last year I had made a scrapbook for my mom, and she absolutely loved it," Sadie Bowden, junior, said.
A good place to go if you can't spend too much dough for those vintage-loving friends is Goodwill or Savers. Fans of thrift shopping know that there are affordable steals that for Secret Santa events this year. To spark some outfit aesthetic inspiration, go to Youtube where professional thrifters show viewers exactly what to look for. Vloggers like Steal The Spotlight, To The 9's, and Jones Style are professional thrift shoppers that exhibit the best ways to shop for that specific look. Websites like Pinterest or We heart it help inspire outfit pairings.
Finally, making yummy holiday treats like rice crispy treats, peppermint cookies, or peanut brittle are free and fun gifts for anyone to receive this holiday season.
Whether it's a basket full of goodies or a creative DIY project, friends and family will enjoy these purposeful gifts.