By Ainsley Davis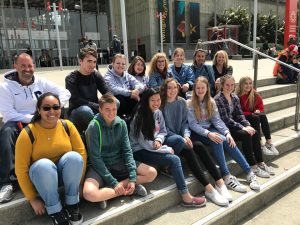 Students from "The Roar" and "The Prowl" staffs traveled to San Francisco from Thursday, April 12 to Sunday, April 15. They attended the JEA National High School Journalism Convention, explored landmarks around the city, and enjoyed local restaurants and shops throughout the City by the Bay.
"The trip really helped us bond because we got to go to a lot of different classes together," Lorin Enns, junior, said. "We were able to sit down and talk with each other, especially with the yearbook kids. We don't always get to do that, and it was nice to get to know them better."
On Friday and Saturday they attended journalism classes at the Marriott Marquis convention center. Students were offered a variety of classes and chose from such topics as yearbook design, photography, photoshop, writing, and leadership.  
"In the classes I learned how to cover a controversial topic and how to write a piece on a tragic event," Bryce Becker, freshman, said. "I also learned some copyright rules, which will make it easier to make infographics without worrying about copyright issues."
The group toured Alcatraz Island and visited two museums: the Exploratorium and the California Academy of Arts and Sciences. They also went to the City Lights Bookstore, Fisherman's Wharf, the Aquarium by the Bay and The San Francisco Dungeon at Madame Tussauds, an experience that took participants through rooms with mini shows about the history of San Francisco and ended in a drop ride.
"The most memorable part of the trip was when we entered the San Francisco Dungeon." Kristina Metzner, senior, said. "That experience made yearbook and newsteam grow closer because many of us faced our fears together."
"The Roar" and "The Prowl" staffs travel to different journalism conventions around the country every other year. The trips allow students to learn new skills from industry professionals, meet other young journalists from around the country, and bond with their classmates.