By Bryce Becker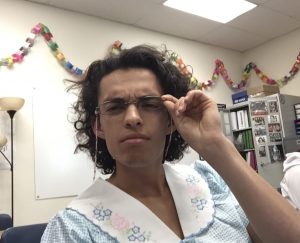 Introspective senior Jack Damiani resonates with American novelist George R.R Martin's "A Storm of Swords" when he said, "We look up at the same stars and see such different things." For Damiani, it means that people have different perspectives: ones that everybody should try to acknowledge. Humans always justify themselves being right, but they just haven't seen all of the perspectives yet; somebody else might have it right.
The Roar: What activities in and out of school do you participate in, and what do you enjoy about them?
Jack Damiani: This year I was an NHS officer. I loved being part of the process to get others involved in the community. I also played lacrosse for seven years, and that taught me how to push myself and work as a team to win games.
TR: What is one of your greatest accomplishments?
JD: Winning state with my lacrosse team was the greatest achievement; we all worked hard the whole year and after battling Green Valley six times, we still pulled off the victory! We overcame heat, fights, and all the rest of the teams, and it accumulated in a successfully beautiful ending.
TR: How have your friends influenced you throughout high school?
JD: They've been my competition in everything, pushing me to be better. At the end of the day, we can all take a break, have fun, and laugh with each other. I don't know where I'd be without them.
TR: What teachers have inspired you?
JD: I've had Mr. Isaak as my math teacher for two years, and he's inspired me through his passion and energy in teaching. He made the more mundane subject of math into one that I really enjoy.
TR: Where are you going to college, and what are you majoring in?
JD: I got the presidential scholarship to attend University of Southern California, which I will be attending next year. I'm really interested in discovering the unknown and how things work. I am majoring in neuroscience because the brain is a confusing combination of the two. I'm interested in how electric impulses can create our perception of reality.
Scoring high on the PSAT, Damiani earned the National Merit Scholarship. He has enjoyed his past four years as a Cougar and is looking forward to his future at USC.