By Bryce Becker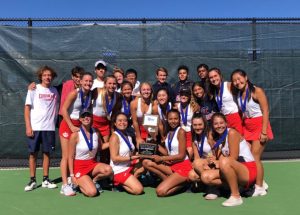 After a second consecutive undefeated season, the Cougars traveled to Reno for the 4A State Championship on Thursday, Oct. 18. The Cougars took on Faith Lutheran in the first game, winning 10-5. Sophomores Ava Nhaisi and Sidra Wohlwend won their doubles match 2-0, along with sophomore Maddie Smith who won her singles match 3-0. Freshman Kennedy Buntrock and junior Blythe Buntrock both won their singles matches 2-1 allowing the Cougars to advance to the finals.
"After winning our first game in Reno, I looked forward to competing for the state champion title," Jessica Duff, senior, said. "All of us were really excited to defend our title, and after our performance in the first game, we were really confident. We all worked really hard to have an amazing season."
The Cougars played Palo Verde in the final on Friday, Oct. 19 and came out with a 15-3 win for the second consecutive state title. Duff and junior Madison Garman won 1-0 in their doubles match along with junior Megan King and freshman Paige Furin who won 2-1. Freshman Sydney Osburn won 1-0 in her singles match, leading the Cougs to victory.
The Cougars have two undefeated seasons consecutively and this is their second consecutive state title win.
"We have been undefeated for two years in a row, and I know the cougars will continue to reign," captain Rayne Hayes said. "It was such a bittersweet feeling walking off the courts with the trophy in hand, but as captain I know I left the team in good hands, and I'm happy my time on the team ended with back to back state wins."