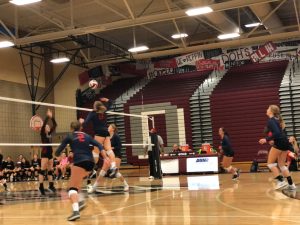 Women's Varsity Volleyball
By Lulu Clemmons
Women's varsity volleyball defeated the Spring Valley Grizzlies, 25-8, 25-13 and 25-6 during their last home game on Monday, Oct. 22. The Cougs accumulated 32 kills, 18 aces, five blocks, 30 digs and 30 assists.
The wins continued as the Cougs took on the Desert Oasis Diamondbacks in the final game of the regular season on  Wednesday, Oct. 24. Beating the Diamondbacks in four sets, 25-14, 28-26, 25-27 and 25-23, the Cougars finished off with a league score of 10-2.
"They were really good competition, and it was a great game. We knew from the start that they were going to put up a fight, and we had to be focused from the start, and in the end everyone on both sides played really well," Katie Sullivan, sophomore (11), said.
Catch the Cougs this week as they start the road to state in the third bracket of the Desert Region Championship playing either Foothill or Sierra Vista on Wednesday, Oct. 31 at Durango High School.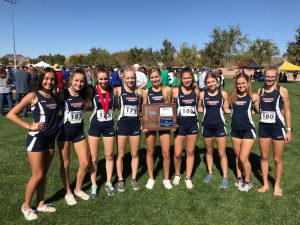 Cross Country
By Ryan Kelleher
Women's varsity cross country won the Desert Region Championship on Friday, Oct. 26 at Veterans Memorial Park. Junior Claire Rawlins placed second, leading the Cougs to a 81-85 victory over Bishop Gorman. Sophomore Erin Shannon and freshman Kelly Denninghoff contributed to the victory, placing eighth and sixteenth overall.
"I'm confident we can do great things at state this weekend," Rawlins said. "Winning regionals gave us a needed confidence boost."
The men's varsity cross country team earned third at regionals on Friday Oct. 26 at Veterans Memorial Park. Coronado received 83 points while rivals Green Valley took second with 75, and Desert Oasis won first with 41. Junior Brendan Graves led the Cougs, placing ninth overall.
Both cross country teams compete again at the Class 4A State Meet on Saturday, Oct. 3 at Veterans Memorial Park.
Varsity Football
By Ryan Kelleher
Varsity football crushed the Chaparral Cowboys, 22-9, in an away game on Friday, Oct. 26. The Coug's superior offense and use of fullbacks contributed to their victory. Chaparral took the lead in the first quarter with a touchdown, but senior Semaj Bolin quickly tied things up with a 94-yard kickoff return. In the second half, the Cowboy's defense started to break down as the Cougs continually ran the ball.
"Our defense was great after the first quarter, all the hard work paid off," Coach Rob said.
Coronado stands with a 4-5 record and 2-2 league record. The final game of the regular season is at home on Friday, Nov. 2 at 7 p.m. against the Liberty Patriots.