By Samantha Catalano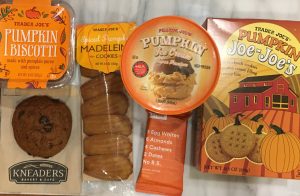 When walking through the aisles of the grocery store, one word stands out amongst the products: "pumpkin." The start of fall marks the season of pumpkin everything, but with so many selections it's hard to know which ones are worth trying. To help filter out the less-than-average pumpkin items, I tested out some of the top pumpkin-flavored foods from Smith's, Walmart and Trader Joe's. They were rated out of 10 based on how they tasted.
Pumpkin RX bars 8/10
This healthy bar is very flavorful, and the pumpkin smell fills the air as soon the packaging is unwrapped. The texture is strange and thick though, like a thick toffee with almonds. Another downside to this tasty snack is the bar leaves a sticky brown residue on your teeth when you bite into it.
From Trader Joes for $1.99 or Target for a pack of four for $6.89
Trader Joe's Pumpkin Ice Cream 8/10
This is amazing. If vanilla ice cream and a pumpkin pie had a baby, this would be the beautiful outcome. It is the perfect amount of sweetness and pumpkin flavor. This is a must try buy.
At Trader Joes for $3.99
Kneaders Pumpkin Chocolate Chip Cookie 10/10
This is easily the best cookie ever. It has a semi-hard outside but when you break open the orangish-brown cookie, it's moist and soft, and the chocolate chips give it an amazing amount of sweetness. These are so addicting you'll keep on wanting more and more.
At Kneaders for $1.99
Trader Joe's Spiced Pumpkin Madeleine Cookies 9/10
It's like having a mini pumpkin pie in a soft, buttery, moist Madeleine cookie. The pumpkin spice flavor was so tasty, and it would pair nicely with a pumpkin spice latte on a cool fall morning. At Trader Joe's for $2.99
Trader Joe's Pumpkin Biscotti 8/10
It has more of a graham cracker taste with pumpkin spice, nevertheless it's still yummy. It would pair perfectly with a warm pumpkin drink. At Trader Joe's for $3.99
Trader Joe's Pumpkin Joe-Joe's 4/10
These were an overload of sweet pumpkin; they should put a warning on how sugary they are. The cookie part was great, but the pumpkin filling was far too strong.
At Trader Joes for $1.99
Top Pumpkin Picks
All of the pumpkin-flavored foods made me excited for fall, but my top pumpkin items to buy would be Trader Joe's Biscotti, Trader Joe's pumpkin Madeleine Cookies, Kneaders' pumpkin chocolate chip cookie and Trader Joe's pumpkin ice cream.
Go pick up these amazing fall pumpkin products before they are gone, and don't blame me if you get hooked on these limited time products.