By Kiley Brown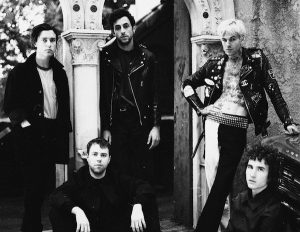 As of last month, it's officially fall. It's a new season which means new music. Classics like "Sweater Weather" by The Neighbourhood first come to mind when many think of a fall playlist, but other songs and more recent outbreaks deserve to be on the same playlist.
The Neighbourhood isn't all butterflies and rainbows, but with the cool weather, they may be worth checking out. "Sweater Weather" has been around since 2011, but it's widely known as the essential fall song. "Wires," "Ferrari," and "Let it Go" provide a grunge, yet comforting vibe, and are other great songs to add to your playlist.
Rex Orange County varies between contemporary jazz, R&B, and electronic. Perhaps his more mellow tones will be suitable for those who don't necessarily enjoy The Neighbourhood. His neo-soul sound is raw and crisp, perfect for those nights when you want to just unwind. "Loving is Easy," "Apricot Princess," "Sunflower," and "Television/So Far So Good" are the best from Rex Orange County's discography to add to your playlist.
Joji produces music best described as "lo-fi hip hop." His songs and said to have the characteristics of melancholic and dark vibes fantastic for fall and a lingering spooky season. "Will He" reached the top of Spotify's Global Viral chart in 2012, and "Slow Dancing in the Dark," "Worldstar Money," and "Pills" all are perfect to chill to when relaxing on any fall evening.
Khalid is best known for his 2016 hits "Location" and "Young Dumb and Broke," but these easy going songs are not all he has to offer. His latest EP "Suncity" (released October 19) delivers Khalid's signature sound of R&B and pop soul ballads with songs like "Better," "Coaster," "Angels," and "Vertigo." Khalid adds to the warm and rich sounds which are perfect for this season.
Take it easy this fall season with a fresh and lively playlist. Whether you are on the go, or cuddled up at home, having the perfect fall playlist to accompany you is always important.