By Samantha Catalano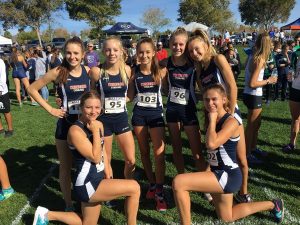 Womens and men's varsity cross country teams ran in the Class 4A State meet on Saturday Nov. 3 at Veterans Memorial Park. They competed against nine local schools including rivals Foothill and Green Valley. The women's team placed fourth, scoring 114 points, while the men's team placed ninth, scoring 220.
"This meet was a tough one for Coronado," Claire Rawlins, junior, said. "I ran a great race up until the last half mile when my legs gave out and my vision went shaky; it was definitely not my best race."
Rawlins took 12th place out of 30 in the 5k (3.1 miles) run.
"My time was 20:30, which is pretty slow for me," Rawlins shared.
Seven varsity women ran in the meet: Claire Rawlins, junior, Ellen Wise, junior, Caitlin Shannon, senior, Erin Shannon, sophomore, Kylee Baird, sophomore, and Spencer Farr, senior.
"Making it to the state cross country meet is a huge challenge," Gracelyn Gattis, junior, said. "It takes a lot of hard work and commitment to come this far."