By Madison Kitch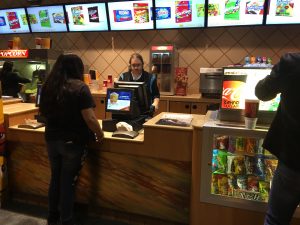 The much-anticipated biopic "Bohemian Rhapsody," released Friday, Nov. 2, tells the tragically-wonderful tale of Queen, an iconic rock band that emerged in the early 70s. The film received mixed reviews from film critics and moviegoers and pulled a 60% on Rotten Tomatoes, and at least one critic even said, "Freddie Mercury deserves better."
The actors share an uncanny resemblance with the members of Queen. Rami Malek looks just like Mercury, from his face shape to the way he carries himself. Gwilym Lee, who plays band peacemaker Brian May, really channels the energy of the real May, and his hair is a spot-on replica. Ben Hardy plays Roger Taylor who, unfortunately, isn't much more than comic relief in the movie when the band experiences a crisis, which is pretty often.
The movie opens with a lot of detail which is really important because it defines the characters and quirks of the band. The first scene is Freddie Mercury opening his eyes and deeply sighing before he gets ready for the day. He walks around his home while all six of his cats eat breakfast. Within the first five minutes, you can already tell what type of person Mercury is.
The soundtrack was authentic and only included music from the band. "Bohemian Rhapsody," "We Are The Champions," and "We Will Rock You," all recognizable as Queen's greatest hits, are included in the movie, but lesser-known songs such as "Love Of My Life" and "Doing All Right" also deserved recognition. The hits definitely made the soundtrack noticeable, but it would have been better if they delved into less popular songs. If the movie had explored the making of songs that aren't as popular, it would have added depth and shown viewers that even those songs were important. Unfortunately, movies only have an allotted time frame, and Queen has too many bops.
Family plays a big role in the life of Freddie Mercury. His relationships with his mother and sister were a normal familial bond, but the pressure from Freddie's father was no joke. Mercury's father, Bomi Bulsara, was depicted as a stodgy old man that didn't want his son to "break free."  Ace Bhatti brings the character to life with strict parenting and obvious disapproval of his son legally changing his last name from Bulsara and going to nightclubs on a regular basis. He's similar to any strict parent but even more so because his son wants to become a performer instead of settling down with an easy job that pays well like a businessman or lawyer. Mercury's father just wants what's best for his son, but their relationship shows that you can't always control your children or other people.
After learning that Freddie Mercury battled AIDS, an immune-weakening disease, the mood in the movie theater shifted to a more somber note. However, this was quickly changed because the last 10 minutes of the movie is a re-enacted performance of Queen at Live Aid, a charity event to raise funds for the Ethiopian famine in 1985. The actual performance in 1985 has been called one of the greatest events in rock history, as Queen never actually stopped during the performance; they merely bled songs together with seamless transition. The film ends on a bittersweet note and leaves the audience with the feeling that Queen will live on forever.
"Bohemian Rhapsody" is a true telling tale of the band. It is a film that will tug at your heartstrings and provide you with a great soundtrack. The band was going to be remembered with or without "Bohemian Rhapsody," but now there's a movie to make sure Queen won't be forgotten. "Bohemian Rhapsody," is just as wonderfully weird and fantastical as its namesake.