By Bryce Becker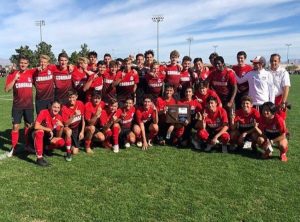 Shortly after finishing a strong season 10-1-1, the men's varsity soccer team played for the regional title and chance to battle for state. The Cougs defeated Durango and won the Desert Region title on Saturday, Nov. 3 before beating Eldorado 1-0 in the state quarterfinals on Thursday, Nov. 8 at Faith Lutheran. Junior goalkeeper Josue Ruiz made 10 saves to keep the Cougars in the game until sophomore Taye Adams was able to chip a ball into senior Alfredo Diaz to score the winning goal.
"I felt pretty good because I had just come off the bench and coach told me to make an impact in the game," Adams said. "I felt pretty confident that we could make it all the way with the momentum we had built up and the team chemistry we have."
The Cougars played Spanish Springs in the state semifinals and won 2-1 on Friday, Nov. 9. The Cougs then played Las Vegas at Bettye Wilson Park on Saturday, Nov. 10 in the final for the state championship title. Unfortunately the Cougars lost a tough battle losing 1-5 and finishing the season second in state.
"We went in to the game confident, maybe too confident, they broke down our defence time and time again and we just couldn't keep up," Ryan Wilkinson, sophomore, said. "I'm hopeful next season we can work harder and take the state title."