By Riley Cable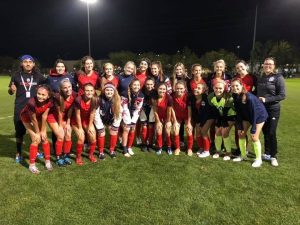 Womens varsity soccer placed second at state on Friday, Nov. 9 at Bettye Wilson Park. After a tough fight throughout the season, the team did not to the semifinals, but ended up losing in a tight 2-3 game. Despite their hard work, the Cougars were not able to claim the state title, and Reno's Galena Grizzlies came out on top.
"The other team was really good, and it was a challenging game," Stella Poste, sophomore, said. "When stakes are that high in state, everyone gets nervous and might not play the same. I don't think it was one specific thing that caused us to lose."
Leading up to the state game, the Cougs played Bishop Gorman on Saturday, Nov. 3. The game was close, and the Cougars had the lead, but a goal from the Gaels tied them up in the last two minutes of the game. Following two overtime periods, the game was still tied up, it then went to PK's, and Coronado lost in the 4-2 shootout.
"For the future, our plans might shift a little because we'll be losing 10 amazing seniors that are all great assets to the team, but mainly we'll focus on working together, so that we can come back next year and win state," Poste said.