By Emerald Green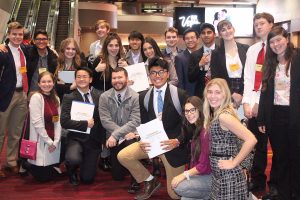 Students from across the valley participated in the 62nd annual Sun Youth Forum on Thursday, Nov. 29 at the Las Vegas Convention Center, lasting from 8:30 a.m. to 1:45 p.m. The entire event was designed to get students' viewpoints on a variety of topics.
"Essentially, they want to hear the opinions from the youth of America on today's issues as opposed to us old farts," Mr. Giusto, Government teacher, said.
Giusto and Mr. Johnson, History teacher, invited juniors and seniors to attend the Forum, but they could only take a small number. This year, it was took 25 students.
"The experience was great overall; I'd never done anything like that before," senior Sydney Kennedy said. "It was very interesting to hear about the opinions of students that go to different schools in the district. I found out that many of them have similar experiences."
Topics ranged from Nevada issues, the United States, international problems, to teen topics like the accessibility to on-campus psychologists and social workers.
"I was expecting it to be debates over topics and heated arguments, but it was actually better than I expected," senior Jason Vott said. "We really came together and put aside our differences to come to solutions, and that was amazing."
Giusto and Johnson have advised and chaperoned this event every year for the past four years.
"It's nice to watch the students take charge and express their beliefs on today's issues," Giusto said. "My students learn that their opinions have value. After all, it will be [the next] generation who will have to solve some of these problems."