By Lulu Clemmons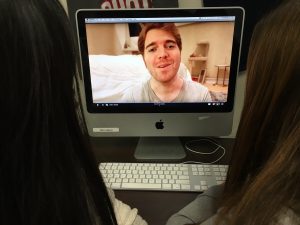 Shane Dawson has been a growing figure in the YouTube community since his start in 2008. With 10 years under his belt, Dawson's content has changed along with him. After making a name for himself with controversial skits, he slowly transitioned into DIY's and crazy food reviews then to conspiracy videos and finally docu-series.
"Shane is a someone who is so relatable and not only covers the unknown, but also shows the truth behind people especially celebrities," sophomore Keji Ajayi said.
The start of these multi-part series began last October when he posted a two-part series with the "Exposing My Secret Relationship" and "Confronting My First Love." After that, he continued to post his usual conspiracy video and the occasional "Making My Cat a Movie Theatre" video. Dawson stopped uploading five times a week and started posting videos a minimum of once a week. Shortly after, he made a three-part series about his past, including his relationship with his father, and there was no turning back.
"I found Shane's old videos very boring and repetitive," sophomore Cooper Copp said. "I'm glad he changed the videos he makes because they are so much better now."
His series range from turning into fellow YouTuber Trisha Paytas to staying at the Queen Mary (a haunted ship docked in Long Beach). The series were seemingly doing well, accumulating a couple of million views for each one. In April, he posted the first "episode" of a seven-part series in which he travels to Houston, Texas to visit youtuber Rachel "Bunny" Meyer, better known as "grav3yardgirl," to help her figure out how to stop her YouTube channel from dying with the increase of other channels like BuzzFeed testing products, a specialty that used to only be found on grav3yardgirl's channel.
"The way they made the whole Houston series was really interesting because it was like a bunch of different stories in one," junior Dallas Johnson said.
The once average popular Youtuber is now considered the "king" of Youtube. Between these series is a 45-minute conspiracy theory video full of flat earth facts, surprising his mother with a trip to Kathy Griffin's house and a failed sponsorship video. Now Dawson began spaced out full episodes, the first being a series about Tanacon, a convention started by fellow YouTuber Tana Mongeau that ended less than two hours after doors first opened. The goal of this series was to find out the cause for the event going down hill so fast and to provide an explanation to the thousands of people who were left out of pocket, sunburned and dehydrated trying to attend this convention. In the three episodes of "The Truth About TanaCon," Dawson interviewed two fans who were at the event, the founder of the tour company Good Times Live, who sponsored the event, and Mongeau herself. After their releases, the videos quickly grew to over a million views within hours of being posted. Others posted their reaction videos, vlogs or "story times" in response, including popular YouTubers Emma Chamberlain, Scotty Sire and Colleen Ballinger. In the end viewers were left with many tears shed, more questions than answers but a slightly less blurry picture of what caused this convention to go the way it did.
"I've been watching Shane for five years now, and I love how he has been able to constantly change his style of videos and evolve while being able to keep the same good content," junior Bella Knapik said.
A month after the release of his first series, a new five-part one called "The Secret Life Of Jeffree Star" took its place. In contrast to "The Truth About TanaCon" which was more about uncovering the truth of an event that went south, Dawson decided to focus on YouTuber Jeffree Star and the parts of his life no one had ever seen before. This series gave an inside look into Star's home, relationship, multi-million dollar makeup company and his past. The videos, each a half an hour or more in length have accumulated over 107 million views in total.
"The Jeffree series was really interesting because it took someone who used to be really dark and messed up and shined a light on the situation to show people who he really is," sophomore Ben McIntosh said.
Months later, Dawson posted a teaser for the series "The Mind of Jake Paul," and the internet erupted. Paul himself even said in part one "I don't think I even have to warn you, but people hate me." When the series came out, it was split between who liked it and who didn't due to Paul's dark reputation of setting couches on fire in his backyard, falsely accusing a fellow YouTuber of assault and publicly saying racist terms. This series was focused on Paul behind the scenes and his past controversies, talking to people like Nick Crompton, his ex-COO of their influencer platform "Team 10, " a licensed psychologist and his ex girlfriend Alissa Violet. Using people who were close to Paul, Dawson was able to get insight into who he really is as a person. The outcome of this series was a complete difference to what the first videos and trailer made it out to be. It didn't seem to change people's views on Paul but rather on Dawson for switching up opinions the way he did.
"This series was all wrong," sophomore Jordan Castro said. "Shane knew what he was doing when he started filming with such a controversial person. He led his fans into believing an outcome then changed his views last minute, and now they're family."
After he uploaded the last eight episodes, Dawson disappeared from YouTube. The break seems to be nearing an end as Dawson posted a photo on his YouTube community tab with him and his videographer/co-editor, Andrew Siwicki, in his kitchen holding a camera with the caption "working on stuff for 2019."
The world will just have to wait and see what he has planned.