By Angeli LaGuardia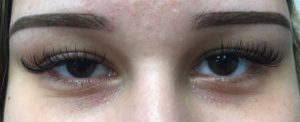 With each passing generation, change is inevitable. Basic beauty necessities like mascara are now left behind in favor of new trends and tricks emerging within the beauty community. From eyelash extensions to lash lifts, makeup artists have engineered innovative ways to amplify lash beauty.
Eyelash extensions
Eyelash extensions use a process of applying faux individual hairs at the natural lash base, so fake lashes can blend with real lashes. Before applying the hairs, customers are allowed to customize their preferred lash appearance.The customer can request their lashes to appear more natural, soft, thick, or voluminous. They can choose from six millimeter to 17 millimeter lashes, and from synthetic, silk, or mink hair. A natural glue is used to apply the extensions. It is possible for customers to develop irritation or infections to distinct lash glues, so lash artists at Cherry Lash make sure to use lash glue that has non-harmful ingredients. Regardless of the style, extensions usually take two to three hours to finish, all for the price range of $140 to $150 for full sets or fills for $65. Once this luxurious beauty accommodation is completed, it is important for the buyer to know that to keep the extensions to their highest quality, they must brush through them with a spoolie, while avoiding rubbing, wetting them for the first 24 hour after application, all the while getting touch ups every two to three weeks so the lash hairs won't fall out. Although costly and high maintenance, eyelash extensions are becoming essential to add to one's beauty regime if in need of a new look.
"Eyelash extension maintenance, although it may seem like a lot, is worth the investment," senior Monet Griffin said. "They make it easy to wake up and get ready with no worries."
Lash Perms
Lash perms, also semi-permanent-like extensions, last up to one to two months before needing new service. Using a cylindrical rod that wraps around the lashes with a chemical solution to produce a more defined curl in the lashes, this process relies on naturally longer lashes. Lash artists at Sassy Lashes recommend this beauty secret to people with longer lashes; for it is known as a process that reduces lash length over time. Lash perms do not include inserting any faux-hair like lash extensions, decreasing the service time to about an hour for $30 to $70. Lash perms work sufficiently well for longer-lashed customers on a time constraint.
Lash Lifts
Lash lifts use a similar chemical solution, like keratin, found in lash perms, as this method also relies on someone's natural lash. Lash lifts, however, use a curve-shaped device that is placed on the eyelid instead of a rod, to open the eyes, that lifts the lashes from the base, lengthening the lashes. Taking only 45 minutes to an hour at Eye Tactics, lash lifts are found to be more beneficial than lash perms because they ensure growth in length since they lift from the roots. Lasting up to two months for $75 to $100, lash lifts are more inclusive to customers with shorter or straighter lashes desiring a lifted look.  
Falsies
False eyelashes eliminate the lengthy process of laying down in a chair as a stranger pokes and prods at your eye. Only costing $5 to $20, false eyelashes are a beauty lovers replacement for several coats of mascara, since falsies only take up 10 minutes to apply. False eyelashes are applied with lash glue that comes in different colors and ingredients that work with a wide range of skin for only $5 at most. As the glue is laid down on the lash line, the lash is soon ready to be placed as close to the natural line band as possible. False lashes are also of more use, because they can be stacked to achieve any look, and there's a variety of sets that can be reused up to five times. Fake lashes are also easy take off and won't consequently pull any lash hairs out. Falsies are a reliable go-to that don't cost half as much as the maintenance that other lash treatments require.
"Personally, false lashes are a better choice for me, since there are diverse lash sets at your local grocery store and any beauty supply store," junior Jazz Tosh said. "Opposed to extensions, falsies won't put you at risk for ripping your lashes out, and they don't collect dust."
Beauty secrets are no longer kept hidden and are now available at the drop of a hat. New ways to spice up beauty routines are easily accessible and there are varying methods that cater to all lash lovers.