Flag Football
By Bryce Becker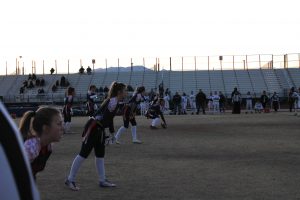 Varsity flag football lost a close game against Green Valley 6-13 in the championship game of the Desert Region tournament on Tuesday, Feb. 19 at Green Valley. The Cougars defense kept the Gators from scoring in the first quarter while both teams scored a touchdown in the second. In the final quarter, the Gators scored a touchdown to secure the win. Senior Reagan Raimer scored the touchdown for the Cougs.
"I think that we had a really great season," sophomore Rachel Burt said. "We didn't have the outcome we wanted, but we still had a great time."
The Cougars finished the season 16-5 overall and 8-2 in league.
Men's Basketball
By Ryan Kelleher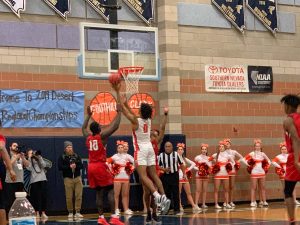 The men's varsity basketball team ended their 2018-2019 season with a 67-70 loss to the Bishop Gorman Gaels in the Desert Region semifinal game on Tuesday, Feb. 19. With 32 seconds left in the final quarter, junior Tyrell Hunt (#10) tied the game 67-67 with a crucial two-pointer. The Gaels then ran the clock and completed the game winning three-pointer with three seconds left on the game clock. Hunt had an 18-point game with 11 rebounds while sophomore Jaden Hardy (#1) contributed with 16 points.
"We played an amazing game on Tuesday," junior David Cantor said. "We hate losing, but we had a lot of fun. All we can do now is train and practice for next year's season."
Varsity finished the season 17-8 overall and 8-2 in league.