By Sage Tippe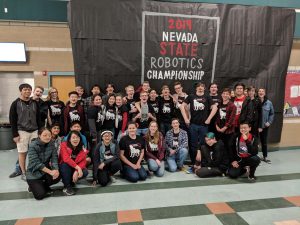 After their recent success at State, the Robotics team is raising money to send their teams to Nationals in Iowa and Worlds in Kentucky. They need $19,000 for the trip.
"This money would be incredibly important moving forward into Nationals and Worlds," junior Brendan Graves said. "We have a high goal to reach, so every dollar counts."
The team has opened up an Ed.co fundraising page where people can leave donations until Friday, March 29.
"We decided it would just be easiest to open up a link where people can donate if they want to," junior Sean Maseng said. "Instead of trying to make people buy something they don't need, we're hoping to get these donations out of simple kindness."
After taking gold at State, the Robotics team secured two spots at Nationals and one spot at Worlds. The money will go towards plane tickets, hotels, and entry fees for the competitions. The team has raised $1,500, a fraction of their $19,000 goal.
"I'm really excited to see what our team could accomplish at Nationals and Worlds," Maseng said. "But first we need to money to send us there."