By Samantha Catalano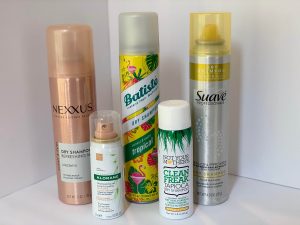 Have greasy, dirty hair and need a quick fix? Dry shampoo is a fast and affordable alternative to washing. All you do is spray it directly to your roots, massage and, in theory, you will instantly have cleaner-looking hair. Finding the perfect dry shampoo can be tough, so I tested five of the top dry shampoos (Batiste, Nexxus, Suave, Not Your Mothers and Klorane) to find the best one.
Batiste Dry Shampoo, Coconut and Exotic Tropical $5.88
Get ready to be wowed with this tropical smelling dry shampoo. Not only does it smell amazing, but it gives your hair a fresh, just-washed look. This dry shampoo is the total package. As soon as you spray the yellow flower can, it will make your hair instantly look and feel clean. The exotic spray will add texture and dissolve instantly while also sending you on a Hawaiian vacation with its smell. 10/10
Nexxus for Volume Dry Shampoo Refreshing Mist $8.29
This easy to use dry shampoo will make you hair look clean. Once you finally blend in the powder-spray, the Nexxus dry shampoo gives a lot volume while also reducing the grease from your hair. It is a quick alternative to washing your hair, but the only downside to this one is it leaves your roots with a powdery residue and takes a while to dissolve in your hair. 8/10
Suave Professionals Refresh and Revive Dry Shampoo $3.99
Save your money and buy this professional dry shampoo fit for a high schoolers' bank account. This lemon-smelling dry shampoo saves your hair when you have a busy schedule and don't have any time to waste.The dry shampoo gives your hair volume and shine; plus, keeps your hair smelling and looking polished. Pick up your can today. 10/10
Not Your Mother's Clean Freak Tapioca Dry Shampoo $3.67
This is not your best choice for greasy hair. When you spray it, you hair will look clean, but an hour later you are back to the grease you started with. The warm vanilla sugar smell is very overbearing and sweet. Overall, it is not a good dry shampoo for days when you have an overwhelming amount of grease. 2/10
Klorane Dry Shampoo with Oat Milk for All Hair Types $20.00
Klorane Dry Shampoo is the most expensive grease hider on the list ($20.00). It sprayed on effortlessly and created the illusion of freshly-washed hair with the added bonus of extra volume and shine. It had a fresh, clean smell and was super easy to blend in. Although this dry shampoo carries a luxurious price tag, the others work just as well. 9/10
Even though washing your hair is the best way to get it clean, these dry shampoos are a good substitute to your weekly hair wash when you don't have the time. There were many top dry shampoo competitors, but the one that created the best clean, good-smelling hair, with additional volume, was Batiste Dry Shampoo Coconut and Exotic Tropical. It makes your hair look clean all day long with a refreshing pineapple and coconut scent, not to mention that it's also affordable at $5.88. The product will erase all of your grease and your memory of having dirty hair that day.