By Lulu Clemmons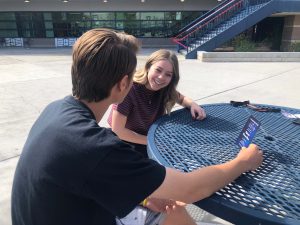 Imagine being surrounded by thousands of twinkling stars, dressed in your best, and making memories with friends you know will last a lifetime. On Saturday April 6, those dreams can become a reality.
"Being able to get dressed up and experience this night with my friends is something I know I'll remember forever," junior Bella Knapik said.
The theme for prom is "Night of a Thousand Stars," and it is being held at Lake Las Vegas Country Club from 6:30 to 10p.m. Ticket prices start at $30 and are being sold at both lunches until April 5 and then will be $40 at the door. If you are looking to bring a special someone who doesn't attend Coronado, make sure you go and fill out a guest pass form in the Activities Office. Don't forget your student ID either when you get to the actual event.
"I'm looking forward to being able to spend one of my last events as a high schooler with my friends before we all go our separate ways," senior Bianca Pineda said.
Since watching those cheesy Disney movies as a kid, prom has been something that everyone looks forward to. It doesn't matter if it's with your bestie or your boo, go have the time of your life and enjoy a night under the stars.
"I made a lot of good memories at my prom," chemistry teacher Mrs.Houseberg said. "I went with my best friend, we took a lot of cringey photos and had tons of fun, and even though neither of us had dates, I wouldn't change that night for the world."