By Roby Tan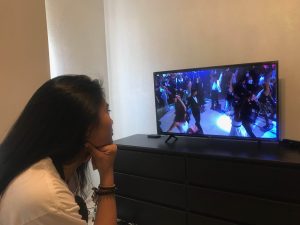 It's the season of that most highly anticipated night: prom. According to the movies, it is the highlight of high school, the night when magical memories are made. These four movies might exaggerate what prom is really like, but they're entertaining, and they build the anticipation for each school's big night.
Pretty in Pink (1986)
Senior Andie Walsh (Molly Ringwald) works at a record store owned by her manager, Iona (Annie Potts), who stands as her mother figure. She lives with her father, Jack Walsh (Harry Dean Stanton), who belongs in the working class. Her best friend, Duckie Dale (Jon Cryer), falls in love with her, yet the feelings are not mutual. Blane McDonough (Andrew McCarthy), a rich and preppy senior boy, takes an interest in Andie despite the clash in their social status. Duckie constantly tries to win Andie's heart, yet her heart belongs to Blane. Steff McKee (James Spader), Blane's best friend, bullies Andie continuously, and he always gets in the way between the couple. Their friends are against their relationship and discourage them from being together.
One night, Andie's father surprises her with a pink prom dress. She hates the dress and considers not attending the prom because of her fear of humiliation among her peers. Iona convinces Andie to not let anybody stop her from making it the best night of her life, and she hands her the dress she wore to her very own prom. She uses the fabric from both dresses to create her very own pretty pink prom dress that suits her, thus the title. This romantic classic reveals the hardships of dating someone from different social classes that may still be prevalent today.
She's All That (1999)
Zack Siler (Freddie Prinze Jr.) is president of his class, the captain of the soccer team and is dating the most popular girl in school, Taylor Vaughan (Jodi Lyn O'Keefe). He's on top of the world until his girlfriend leaves him for another guy she meets on spring break. Struggling to stay relevant, he decides to accept a challenge from Dean Sampson, Jr. (Paul Walker) which is to transform Laney Boggs (Rachael Leigh Cook) from a dorky nerd to a dreamy supermodel in six weeks, so he can regain his popularity and clear his bad name. It takes Siler a few attempts to charm Laney, but by the end, what was once an immature bet, develops into a timeless romantic comedy.
"She's All That" carries a lesson that it's more important to look past someone's physical attributes and see people's true colors. It also takes time to get to know someone and appreciate them for who they really are.
10 Things I Hate About You (1999)
"10 Things I Hate About You" was inspired by William Shakespeare's 16th-century comedy, "The Taming of the Shrew." It is the late 90's modernized version of the screenplay revised into a high school setting. The play is about an elder sister who is deemed unfit for marriage because of her rebelliousness, while the younger sister is deemed the ideal woman who has men lined up for her hand in marriage.
Bianca Stratford (Larisa Oleynik) is a popular sophomore, and Cameron James (Joseph Gordon-Levitt) instantly falls in love with her at first sight. He asks her to prom, but her father's rule that she can't date until her older sister, Kat (Julia Stiles), has a boyfriend gets in the way of his plans. Although Kat may be beautiful, guys aren't attracted to her because of her hard exterior and altogether rude personality, and the well-known fact that she's sworn off dating makes it even harder. Now, in order for Cameron to date Bianca, he has to find someone to date Kat. Michael Eckman (David Krumholtz), Cameron's friend, helps him enlist the help of pretty-boy/jerk/model Joey Donner (Andrew Keegan), tricking him into thinking that [Joey] will get to take Bianca out if he pays someone to take Kat out. His lucky pick is bad boy Patrick Verona (Heath Ledger), and Michael and Cameron give him information about Kat's likes and dislikes until she takes an interest in him. A movie consisting of a drunken concussion, a rock concert, a paint war, an eventful prom, and a lovely poem quickly becomes a romantic classic.
Never Been Kissed (1999)
The 1999 romantic comedy "Never Been Kissed" was also inspired by William Shakespeare's 1623 play, "As You Like It." It's about the Duke's daughter who flees from persecution from her uncle along with her cousin, Celia, where they find safety, and eventually, love.
Josie Geller (Drew Barrymore) is a copywriter at the Chicago Sun-Times, and, for her first undercover job, she must pose as a 17-year old high schooler. Her job is to gather intel and to help raise awareness to parents about the average teen. While she's there, she ends up getting the opportunity to re-do her bullied high school years, but she ends up falling for her teacher, Sam Coulson (Michael Vartan), who is afraid of falling in love with her, thinking she's his student. Josie has to befriend the popular kids to get the inside scoop, but she couldn't do it without the help of her brother, Rob Geller (David Arquette), who knows how to get the spotlight considering he was popular as a teen, and he uses his fame for Josie to enter the cool kids' lane. He convinces Josie to start fresh, leaving her geeky high school self behind.
Prom movies present various scenarios of the perfect night, leading to the same old clichés. Rom-com clichés are clichés for a reason, for it is a way to escape reality. Don't live by high expectations; make prom night your very own, extraordinary night.