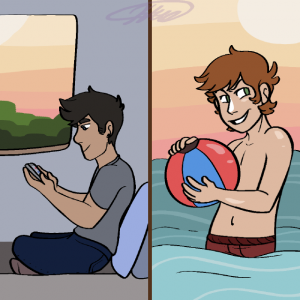 Stay home by Riley Cable
Soaking up the sun with friends and exploring new sites are typical spring break activities, and they all can be done from the comfort and familiarity of your own city. It's a common misconception that you must travel to have the dream spring break, but in reality, it's completely unnecessary. Staying home for spring break might not seem like the best idea, but it holds many more advantages than traveling.
Although fun, going on vacation is extremely costly. Not many people have the bank account to travel to Hawaii for a week, let alone the time to worry about hotel reservations, daily activities and every other travelers' needs who comes along with them. Between spending money on lodging and forking over a fortune on food, experiences always cost big bucks. It's a very rare occurrence to find a touristy scene that doesn't require opening up your wallet. Sticking around home, you'll have a much better chance of experiencing new places without breaking the bank.
Having a staycation allows you to witness a whole new side of your city. As a tourist in your town, you'll be able to leave your daily troubles behind and explore the places that you've never had time to see. It's even easier to make a full holistay out of your spring break when you live in such a big city. You could easily go to a Las Vegas hotel and relax by the pool for hours, or experience the extravagant parts of The Strip. You never know what you'll come across when you're looking for adventure. In addition to saving money by not taking the tourist route, locals' deals will save you plenty of cash for even more fun.
By the time spring break rolls around, you've hit rock bottom. You are exhausted and completely over school. Staying in the comfort of your own home, and more importantly, your own bed, is much more relaxing than going great lengths to your destination. In theory, vacationing is thought to be the most relaxing time, but traveling is actually extremely exhausting, and chill time is abandoned. Staying local allows you to make your own schedule and decide exactly what you want to do and when you want to do it. One day you might decide to lazily lay in bed binge-watching Netflix, and the next, you'll be up and running the most extravagant outing. It's all up to you.
There's no reason to leave your town when it's exceptionally easy to have an enjoyable time at home. Truly embrace and appreciate where you live and all it has to offer. It's important to remember that you are allowed to take time for yourself and disregard all your responsibilities. Spring break isn't determined by where you go and who you're with, but that you are thoroughly enjoying your time relaxing. So forget packing and rushing to the airport, everything you need to escape reality can be found right at home.
Vacation by Roby Tan
After spending hours upon hours, days upon days pushing to the limits to survive the rest of the second semester, hearing that spring break is right around the corner is music to a student's ears. During this break, it's time to relax before stressful end-of-the-year exams and activities. Relaxation may be defined differently; some may agree that staying at home, binge-watching their favorite series all curled up in bed is relaxing, while others would rebut that a getaway is the better solution for taking their mind off of reality, so they can come back to school refreshed.
It is a rare opportunity to get out of town and spend time with family, so a full week off is a generous amount of time. It allows everyone to see and to experience new things, and to take a break from their repetitive day-to-day routine. Watching television will always be there, but the chance to see a sunflower field in full bloom or to walk by the beach feeling the breeze touch your skin as the sun sets should be grasped right away before that moment is gone.
Some might argue that traveling during spring break is a waste of time and money, but no time nor money is wasted if the experience is worthwhile. Traveling not only offers fun stories to tell after coming home from an exciting trip, but it also gives the much-needed benefit of learning budgeting skills while having fun at the same time. These skills teach the practicality of saving money and finding the best deals with the best locations. It is unnecessary to go to a five-star hotel, but as long as everyone is together and comfortable in an ordinary motel that meets all the basic necessities, time together will be well-spent. Spending quality time away from the hustle and bustle of everyday life leaves people craving for the thrill of new encounters they may come across.
Life is far too short to waste time by throwing away rare opportunities to see the many wonders of the world. Pack your bags, catch the next flight to who knows where, and don't be afraid to take risks outside of your safe, personal comfort zone.