By Ainsley Davis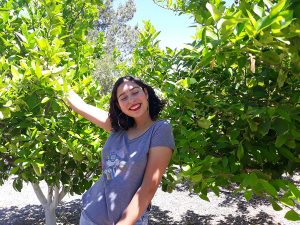 As president of the Gay Straight Alliance, historian for Jewish Student Union and member of the Diversity Committee, senior Jennifer Haber is taking a stand for equality. She advocates for people of all races, genders, and sexualities, and plans to make an impact on the world through activism.
"There was never any specific moment when I became involved in politics," Haber said."I just slowly became more educated in what really happens to disenfranchised groups and got more involved in stopping it."
Haber has been president of the Gay Straight Alliance for two years. She believes that "a lot of people see GSA as a community and have used it to meet friends or partners, or just as a place to feel comfortable with people like them." As president, she made club shirts, sold Skittles at lunch to raise club funds, organized movie nights, board game parties, and hosted a party with other schools' GSAs. Haber also organized a school-wide clothing drive to benefit The Center LV, a local LGBTQ+ charity.
"Sometimes I don't want to do GSA, but a lot of kids come up to me and ask when the next meeting is or say that they've been waiting all week for it," Haber said. "It keeps me motivated."
In addition to fighting for LGBTQ+ causes, Haber also works to demand equality for other minorities. She participated in Black Student Union and served as vice president for Jewish Student Union this year. Celebrating holidays like Rosh Hashanah with JSU brings back memories of her family, who she has only seen a few times since moving from Florida. "Being a queer, Jewish person of color, so many of my friends and family are marginalized and discriminated against," which has prompted her to care deeply about equality.
During her junior year, Haber became a member of the Cultural Diversity Committee, a group of students meant to address the problem of discrimination and and actively combat it. Although she felt that a lot of important issues were overlooked by administration, she went through Safe School Ambassador training where she learned how to better combat bullying and discrimination. The students also collaborated to plan an annual cultural celebration night.
"I'm pretty set on being a lobbyist and working with non-profits related to civil liberties," Haber said. "I'm already involved in fighting for change, so if I start my own rally or march, then I have a good idea of how to do it."
After high school, she plans to attend UNLV and study political science to prepare her for the career she wants. On Wednesdays, Haber attends lobbying classes with Alyssa Cortes, a local politician, and recently went to Carson City with social workers to meet legislators. She also connected with assembly woman Susie Martinez, who she looks up to and shares values and viewpoints with.
"Going to Carson City was really important to me because it was my first real lobbying experience," Haber said. "It made me go from slightly unsure to one hundred percent certain that I'll work as a lobbyist in the future."
In her free time, Haber enjoys going thrift shopping and watching Youtubers like Natalie Wynn and Kurtis Connor. She enjoys events like Pride, Veggie Fest, and the Women's March, where she can connect with other people who believe in the same causes.      
"I just want to uplift and support others in their journey to making the world a better place," Haber said.