By Angeli LaGuardia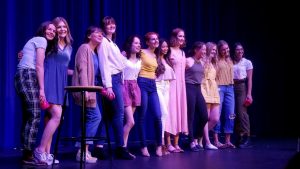 Tears were shed in the theatre from 6-8 p.m. on Friday, May 3 as all choir groups showcased their spring music in the last concert of the school year.
After they came back from their big win at the San Francisco Worldstrides Festival, each choir ensemble only had three weeks to rehearse, and they scrambled to not only learn new vocals, but perfect and polish student directed choreography for multiple numbers.
"Choreographing and being able to sing is a lot of work, but it's so much fun," freshman Kayla Wong said.
"Teaching choreography has led the class to grow and bond," freshman Leila Wong said. "There were hard times, but we turned it around to make learning an enjoyable experience."
Seniors Sierra Miles and Jenna Rosario choreographed Madrigals and Concert Choir numbers, while the Wong twins choreographed all Bella Voce numbers. However, individual group numbers and barbershop numbers were organized and executed as a group without the assistance of designated choreographers.
"Being a choreographer is so fulfilling when you get to do what you love with people you love," senior Jenna Rosario said. "Crunch time is always challenging, and it can be scary to think that the choir wouldn't understand our vision, but they did, and it was an amazing last concert."
Each ensemble is required to perform two or more pieces at the spring concert. Bella Voce sang two pieces, "Dancing Queen" and "Defying Gravity." Concert Choir showcased two pieces, "Into the Woods" and "Bohemian Rhapsody," while Madrigals sang three songs, "Little Shop of Horrors," "Ticket to Ride," and "Seasons of Love." This year's all senior girl's Barbershop sang a rendition of "Some Nights," while the boy's Barbershop opted for a humorous piece titled, "Chordbusters." Director Mr. Fleischer allows individual groups to audition and perform their own numbers of choice for Spring concert. One girl group performed "Super Trouper" and the second solo act sang a comedic piece titled, "I've Decided to Marry You." Each number had costume themes that fit the piece.
"It was so fun to be the witch in 'Into the Woods'," junior Mackenzie Lefler said. "She was so evil and cruel, which is a contrasting character to my own personality. The whole concert in itself was a really great way to end our year."  
Annually, spring concert recognizes their seniors that are leaving the program. All the seniors line up and are given roses while they announce what their plans are for college and personal career choices.
"Performing at my last spring concert was really bittersweet," senior Vanessa Vance said. "It was super gratifying to see the choir's vision come to life on stage, but it was sad because it was the last time that we would sing together as an amazing group. Senior recognitions made me so happy to see what my friends plan for their futures. I know we're all excited for the next chapter in our lives."