By Ainsley Davis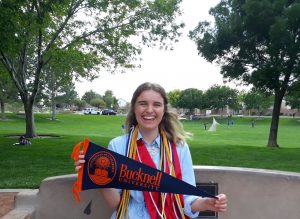 With her bright personality and love for helping others, senior Sarah Rickards is described by her best friend as "one of the brightest and most positive people you will ever meet." Her kindness and passion for connecting with people has given her the drive to volunteer, attend numerous student leadership conferences and become a mentor for other students.
Rickards volunteered at Paseo Verde Library from 2016-17 and started volunteering at St. Rose Hospital in 2017. At the hospital, she answers questions at the information desk, discharges patients and runs errands for nurses. Her favorite part is discharging newborn babies because she "has the honor of taking them to the outside world for the very first time."
At school, she volunteered her time to be a mentor for incoming freshmen through the CougarFIT program where younger students were connected to mentors through common interests such as art, community service and sports. She gave her freshman mentees a tour of the school at the beginning of the year and stayed in contact to offer guidance and encouragement.
"It was very fulfilling to see them grow into their own people and find their place at Coronado," Rickards said.
Rickards has been a part of Student Council since freshman year, spending one year as class Historian and three years as class Secretary. Junior year she helped plan the homecoming bash, and senior year she was head of the planning committee for the bash. Even though it took months of hard work, she "loved seeing so many people attend and have fun." In StuCo, she has learned to step out of her comfort zone and gained valuable skills like leadership and time management. She also met one of her best friends, Amy Kang, through StuCo, who she looks up to for her positivity, kindness, and work ethic.
"I love the people in StuCo and the relationships I'm able to build in the class and at conferences," Rickards said. "Heading committees and running for officer positions have taught me that great risk results in great rewards."
Since 2016, Rickards has attended the Nevada Association of Student Council conference and in 2017 became a junior counselor, teaching other students and leading team building activities. She and Kang spent three days leading a group of teenagers from all over Nevada and taught them skills to implement in their own StuCo classes. For her, the conferences have been the most rewarding part of Student Council.
"It was an honor watching my group develop into friends and into such an amazing team," Rickards said. All of them still talk to each other in the group chat to this day."
In the fall, Rickards is attending her dream school, Bucknell University. Although she is going into college with an undeclared major, she is leaning toward a social science such as political science. The school has an active student government and community, so she can continue helping those around her and making her corner of the world a better place.