By Lulu Clemmons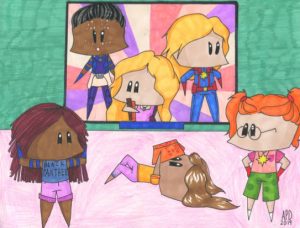 From the cunning Regina George to the passionate Elena Gilbert, television and film have continued to bring viewers iconic female roles throughout the years. All female roles are important, however, the characters that stand out the most are the the ones that empower others both inside and outside of the screen.
Elle Woods
Typical valley girl and sorority leader, Elle Woods (Reese Witherspoon), decides to go to law school after breaking up with her long-time boyfriend Warren Huntington (Matthew Davis). In the teen classic "Legally Blonde" (2001), she falls in love with herself during her journey. After spending some time at Harvard Law School, her intentions change, and instead of doing this for her man, she earns the degree for herself. Elle works hard in order to win a huge trial, and during that she finds the guy who both challenges her and makes her better. Despite her dumb-blonde stereotype, Elle uses her smarts to help women of all ages realize that once you fall in love with yourself everything will fall into place, and you can achieve anything you can put your mind to.
Olivia Benson
New York detective Olivia Benson (Mariska Hargitay) works at the Manhattan Branch of an elite squad, also known as the Special Victims Unit. Since the premiere of Law and Order: SVU in 2000, Benson has helped share hundreds of stories, and she's grown as a person in doing so. Benson became extremely respectable after adopting a baby boy involved with one of her cases, Noah Benson (Bradley Dubow), and became the boy's single parent. After a while, shows become boring and characters become dry, however this show and Benson's character continue to develop despite it's 19 years on air. Benson's never give up attitude can help inspire everyone to work for their goals no matter their situation.
Hope Mikaelson
In the second spinoff of the "Vampire Diaries" (2009-2017), Hope Mikaelson (Danielle Russell) attends "Salvatore School For The Gifted" while continuing to cope with the loss of both her parents. Suddenly, a seemingly human boy named Landon Curby (Aria Shahghasemi) arrives in town, and many mysterious creatures begin to appear. What separates Hope from the majority of teenage drama characters is the lengths she will go to protect her loved ones. Hope risks her life numerous times, and in the finale, she does something unimaginable to save the people she cares for. Even though it is only a one-season show, through determination and power, Hope shows audiences that it's important to struggle for what you care for.
Diana Prince
An Amazonian princess, Diana Prince (Gal Gadot), embodies a strong female warrior in the D.C movie "Wonder Woman" (2017). Once leaving her neutering home, Diana finds herself in a war-torn world where females are not respected at all. Diana along with American naval pilot Steve Trevor (Chris Pine) leave for the war that's believed to be more about her greek god history than a fight between countries. Diana's fearlessness and willingness to prove her worth is inspirational to anyone facing adversity in their life. She teaches that although you might not be a princess, you can still create your own destiny.
Carol Danvers
On the other side of the comic book world, in "Captain Marvel" (2019), Carol Danvers (Brie Larson) fights her way through outer space. While on a mission to find aliens, Danvers ends up finding herself. As the film progresses, she flashes back to pivotal points in her life. Some of these moments included males in her life doubting her, like her dad saying derby car driving wasn't for little girls, and males in the Air Force telling her she was too weak and should quit. Danvers then uses those incidents to drive her in the direction she, not anyone else, wants to go. Watching Danvers grow as a person despite people putting her down because of her gender inspires other females to embrace their gender and prove haters wrong.
Countless influential females can be found in the entertainment industry: Lady Bird, Meredith Grey, and Hermione Granger. Female characters have influenced and inspired many people and have shaped them into the people they are today. Whether a bleach-blonde law student or a universe-saving alien, empowering female role models share important messages to those of all ages.