By Kiley Brown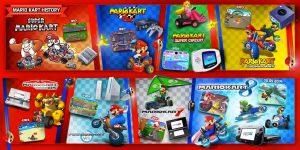 Initially expected to be released in March, the highly anticipated iOS and Android game "Mario Kart Tour" was released on Wednesday, Sept. 25. The franchise has been around since 1992 and has sold over 138 million copies. This is the first time ever a game from the series has appeared on a smartphone, and it was downloaded 10 million times on its first day. The app is free, but there are in app purchases. 
In order to start playing, users will need to create a Nintendo account. There is a five minute video for those who need it and are not familiar with this iconic game at all. It goes over how to play the game and its basic controls. For the first two weeks, racers will compete in New York inspired courses. Following that, Tokyo and Paris courses will be available. While completing races, players can  unlock classic characters, like Musical Mario and Pauline from "Super Mario Odyssey."
The game is easy to follow; players slide their fingers across the screen to maneuver, tap to launch items and can play in either vertical or horizontal mode. Adding friends allows users to see where they rank among each other; however, multiplayer is not yet available. Nintendo indicated this will become accessible at a later date. 
The races consist of 17 classic courses that are two laps long unlike the usual three. After finishing three different courses, players unlock a unique mission like racing through a certain number of rings or attempting to glide in the air for as long as possible. These challenges allow users to use characters not yet unlocked and are shorter than a normal race which is beneficial for mastering basic abilities. 
Users can purchase the Gold Pass for $4.99 a month. The pass includes a few in-game items, badges and the fastest racing mode.. Players can try out the Gold Pass and fastest racing mode for free for two weeks. 
"Mario Kart Tour" will stick around for a long time, as it has been a part of many childhoods. Although the app definitely lives up to the hype, the thrill from holding an actual steering wheel for the classic Wii, will be missed.