By Riley Cable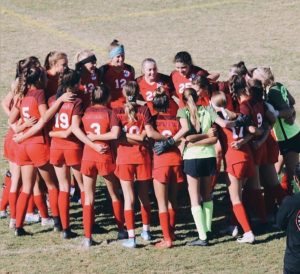 Women's varsity soccer secured second place in the state championship game against Faith Lutheran in Reno on Saturday, Nov. 16. The Cougs fought long and hard in the game up north, but came up short one goal. The game was close, as the Cougs didn't go down without a fight, and the score stayed at 0-1. 
"This season was the best one yet!" said junior Carly Gustafson. "I had such a fun time this weekend despite the loss. We fought until the very end for each other, and I couldn't have asked for anything more. This team has such a strong bond, and we all love each other so much."
Starting their weekend in Reno, the team played Centennial High School and took the 1-0 win. With their spirits high, the team went into Saturday's game ready to play hard. Despite their best efforts, Faith was able to get a goal in the first half, and the Cougs were not able to come back.
"We are so much more than just a team, and I can't wait for next season because big things are coming," Gustafson said.