By Isabella Burnette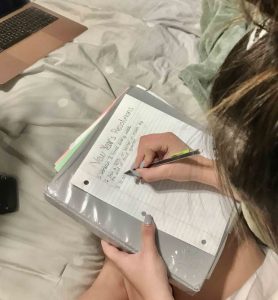 Most people make New Year's resolutions with goals of bettering themselves in the new year, but not many people actually follow through. Whether the goal is losing weight, spending more time with family, or something as little as being nicer, people forget or give up on their resolutions shortly into the year. About 40-45% of people make New Year's resolutions every year, and at least 25% of them abandon their resolutions by the second week of January. The lack of sustaining goals can easily be avoided with a few simple tips.
"I like to make my New Year's resolutions about some way to help save the environment," sophomore Ella Mcdevitt said. "I think a lot of people make resolutions without really thinking about the point of them."
According to Cambridge dictionary, a New Year's resolution is, "a promise made to oneself to start doing something good or stop doing something bad on the first day of the year." Before making a resolution, think about the bigger picture: what will make the New Year better both individually and socially? Start by remembering what caused problems or stress in the past year and then determine what can be done to prevent it in the future.
Make sure the goal is realistic. The most common New Year's resolution in America is to lose weight. Someone shouldn't make their resolution to workout twice a day if their schedule is completely packed. Setting too high of expectations makes it easier to give up a week in. Psychologists call this False Hope Syndrome; when an individual has unrealistic expectations setting themselves up for failure. There are many factors when deciding if a resolution is realistic, including individual ability. Everyone's resolutions are different because everyone has different goals in mind.
"Every year I've said I'm going to workout more, and I never did," sophomore Reese Judd said. "Last year, I set days of the week that I would go, and I stuck to it."
Keep the goals as specific as possible. Broad goals are more likely to not be achieved because it's easy to find loopholes. Instead of making a resolution to be nicer to people, make it to compliment friends more, or specify the people you want to be nicer to. Studies show that the more specific a goal is, the more likely it is to be achieved.
Along with being specific, set distinct measures. Rather than saying "I want to get better grades," say "I want to have greater than 90 percent in all of my classes." Setting half way marks and know how much progress they've made to the goal. Without distinct measures, there's no way to tell if the goal was ever officially achieved. Exact goals will cause more satisfaction when they are achieved. 
"I think people don't follow through with their resolutions because they don't have to," sophomore Lexyn Lopez said. "In school we do our work because we have deadlines, and I think it could work that way with resolutions too."
One of the most important things to consider is time. It's essential to set a deadline. For new years resolutions, most people expect to just automatically change, but what they don't realize is it takes time. The best way to change a lifestyle is to take baby steps. Adding phrases like "by the end of January" or "before summer begins" to resolutions will make them easier to achieve and more motivational.
Resolutions are a great way to start off the year as long as reality and specificity are taken into consideration. The journal of critical psychology says that people who make New Year's Resolutions are ten times more likely to achieve their goals than people who don't make resolutions. With the right determination, any New Years resolution can be achieved.