By Ellis Sondrup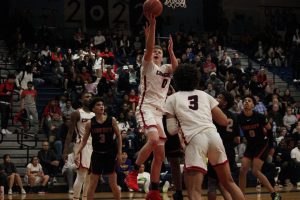 Men's varsity basketball came out strong in their first two league games of the season, downing Liberty 100-86 on Wednesday, Jan. 8, then defeating rival Green Valley 69-35 on Friday, Jan 10. This pushes the Cougars to a 9-5 overall record and a 2-0 league record.
Liberty struggled against the Cougar offense, led by junior Jaden Hardy's (#1) 26 points and senior Tyrelle Hunt's (#10) 22 points. However, Coronado struggled with fouls throughout the game, collecting 10 team fouls in the third quarter alone. This put Liberty at the line and allowed a push in the fourth quarter, but the Cougs held their lead and secured the win.
"We play physical, that's just what we do," Coach Kaufman said. "We have to control our fouls, but we're not going to stop playing physical." 
Coronado played Green Valley on the road in the first rival game of the season, and again, the Cougs breezed to a win over the Gators. Sophomore Jaxon Kohler (#0), a new face to Coronado this season, led the team with 19 points followed by senior Dallas Rider (#3) with 11. 
"We've been playing all over the country, so they know they can play," Kaufman said. "We wanted to come back and test them here in Las Vegas and win. It's a lot of confidence, we put it on them pretty well." 
The Cougars face the Foothill Falcons on Tuesday, Jan. 14 followed by the Basic Wolves on Thursday, Jan. 16. Both games are at home at 6:30 p.m. Students attending the Foothill game are encouraged to dress in the camo theme and sit and cheer in the student section. 
"I'm looking forward to seeing how we play together as the season moves on," junior Andrew Marshall said." On this team, everyone makes impacts in their own roles and what allows each and everyone of us to shine. The momentum gained over these two games and the few games before the Gorman game will be more than enough to end the dynasty."