By Bryce Becker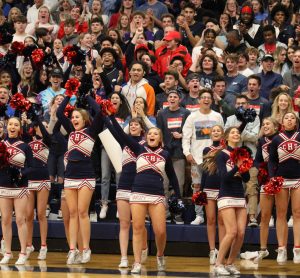 Men's varsity basketball is set to play Bishop Gorman in the Big City Showdown on Friday, Jan. 24 at 8:00 p.m at UNLV's Cox Pavilion. 
"Preparation has gone back since the end of the playoff game vs. Gorman," senior Dave Cantor (#20) said. "All spring, summer and this season we practiced hard and did everything with one goal in mind; to beat them and win state."
Students are encouraged to cheer with the Boom Squad at the game. Students can sign up for one of the five "Boom Buses." Registration is held in the quad during both lunches from Tuesday, Jan. 21 through Thursday, Jan. 23. A signed field trip and medical permission form are required as well as $10. Sign up includes game ticket, transportation and a t-shirt. Buses leave Coronado at 6:30 p.m. on Friday and return at approximately 10:15 p.m.
"The Boom Squad is awesome," junior Daniel Allen (#22) said. "They give you a sense of urgency in the game to continue to play harder, they are the best. There is a lot of pressure but it should be entertaining for everyone. We are preparing the most for their guards Will McClendon and Zaon Collins and their forward Mwani Wilkinson, they are physical and fast."
Attendees have the choice of five buses, the "Baldi Bus" hosted by senior Boom Squader Michael Baldi, the "Cheer Bus" hosted by the cheerleaders, the "BMF Bus" hosted by celebrity teacher Mr. Jeff Johnson, the "Freddy B" Football bus and the "Baseball bus". 
Students and parents who are unable to attend can watch the game live on ESPNU starting at 8:00 p.m.