By Ellis Sondrup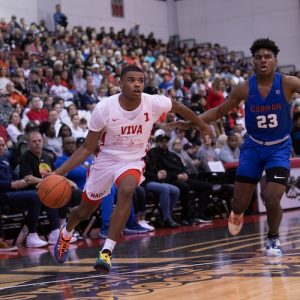 The men's varsity basketball team played strong, but fell to the Bishop Gorman Gaels on Friday, Jan. 24 at the Cox Pavilion in a televised game on ESPNU. Despite holding a steady lead for most of the game, the Cougs were unable to hold their ground in the fourth quarter falling 62-70. 
New jerseys were unveiled for the game, they matched the white shirts of the student section. Keeping with the "Viva Las Vegas" theme, Elvis Presley hit the floor pregame with the cheerleaders. 
"I really liked the hype atmosphere of the student section," junior Pilar Cohen said. "Everyone was super into the game and enjoyed the acts." 
Coronado took a commanding lead of the game in the first quarter, pushing an 8-0 lead to start and ending the first up 17-15. The energy was able to continue into the second, the Cougs forced Gorman to call a timeout with the score 29-19 with five minutes to go until half. The Cougars finished the half on top 35-33. 
Nevertheless, Gorman kept fighting, playing an extremely physical game, against junior Jaden Hardy (#1) especially. Hardy was held to 11 points with a double team on him for a majority of the game. With this, Gorman took control of the game and a lead in the third quarter with the Cougs close behind. 
"We didn't make up for the lack of fouls called," Head Coach Kaufman said. "It was physical on both sides and we did what we had to do." 
Gorman took complete control of the fourth quarter, never letting Coronado lead the scoreboard. Sophomore Jaxon Kohler (#0) exited for good with pain in his right leg after the third quarter following 12 points. Senior Tyrell Hunt (#10) never came out of the game, putting up 15 points and seven assists. Despite efforts, Gorman held control of the ball for most of the final four minutes of the game, preventing any comeback.
"It's been our curse with Gorman, 50-50 balls, offensive rebounds that hurt us and that's what happened," Coach Kaufman said. "Everything was good, but it's a game of runs. Some 50-50 balls and some bad rebounds, that's what cost us. Gorman is very good at capitalizing on mistakes, and they did." 
The next Cougar home game is on Tuesday, Jan. 28 against Green Valley at 6:30 p.m.