Varsity Flag Football
By Lorin Alukonis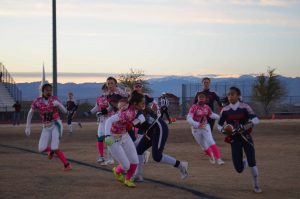 Varsity flag football lost against the Green Valley Gators 6-12 in a home game on Wednesday, Jan. 29. The Cougars led in the first half with a touchdown from sophomore Jaeya Grey, but were unable to recover after the Gators came back in the second half. 
"Last night, I think our team played one of our best games," Grey said. "We had really good blockings and good runs. Like every other team, we have to work on things like actually getting the ball into the touchdown when we are really close. We worked really well together and both offense and defense hyped each other up on the sideline which was very impactful."
In the second game of the week, the Cougs shutout the Foothill Falcons 27-0 on Friday, Jan. 31 in an away game. They started off slowly, but by the second half, the Cougars put points on the board and the strong defense held the lead. The Cougars play again tomorrow against Basic in an away game. 
Men's Varsity Basketball 
By Ryan Kelleher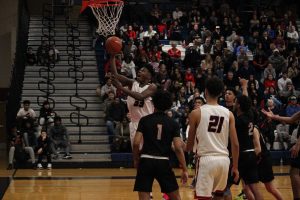 The men's varsity basketball team demolished the Green Valley Gators 81-41 on Tuesday, Jan. 28 at home. Varsity basketball also defeated the Foothill Falcons 99-85 on the road on Thursday, Jan. 30. Junior Jaden Hardy (#1) scored 39 points, seven rebounds and five steals against the Falcons. Senior Felix Reeves (#5) scored 16 points while senior Tyrelle Hunt (#10) made six points for the Cougs. 
"This was a great week for us," senior David Cantor said. "We just have to keep pushing and winning these close games."
The Cougs play again today on the road against Basic at 6:30 p.m.
Women's Varsity Basketball
By Bryce Becker
Women's varsity basketball lost 46-50 against Green Valley on Tuesday, Jan. 28. Though the Cougars had the lead at the end of the first quarter, the Gator's strong defense held off the Cougs in the last quarter. Senior Gabbie Etopio assisted the Cougars scoring 14 points while fellow senior Dallas Balanay-Flores scored 10 points.
"So Tuesday's game didn't go as planned," senior Dallas Balaney-Flores said. "We knew Green Valley was a taller team which meant we had to work a lot harder. It started off as a good game but started to go downhill once the refs started to call everything against us. We put up a fight and sadly fell short."
In the second game of the week, the Cougars lost 32-54 against Foothill in an away game on Thursday, Jan. 30. The Falcons offense outscored the Cougars in each quarter leading to the tough defeat. The Cougars play again in an away game today against Basic at 5:00 p.m.