By Kiley Brown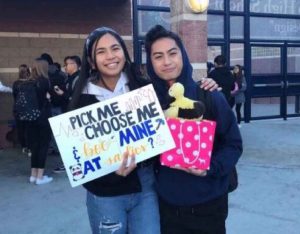 Guys are typically expected to ask the girl out on a date, this is the time of year when roles are reversed: Sadies. 
Sadies started in 1937 with a comic strip by Al Capp called "Li'l Abner," featuring the character of Sadie Hawkins. She was portrayed as an unattractive, young woman and at age 35, she believed she would not get married. Her father decided to create a "Sadies Hawkins" day where every girl in town could ask guys out on a date rather than waiting on the guy to ask.
"I like Sadies because it allows for confidence," sophomore Tiffany Nunez said. "It's also really fun to be with your friends." 
To start off with the most popular choice, twinning is always the way to go. The girl can dress more casual, choosing to wear a t-shirt. Photos are definitely a must for the group, and the next day everyone's social media feed is filled with the cute photos of the matching outfits. Places like the iconic "Welcome to Vegas" sign or Green Valley shops are a couple ideas to spark interest. 
"I am excited if I end up doing something for Sadies," freshman Gabriella Perez said. "I've seen group photos before, and I like how everyone twins." 
Dinner and a movie is the easiest outing experience to ensure everyone is happy. No one can complain when enjoying a good meal and laughing it up at the most recent comedy. Opting for Town Square or Green Valley Ranch could eliminate traveling from place to place. Restaurants like Texas de Brazil, Pizza Rock, or Cheesecake Factory are a few examples of options at both of these locations. Because taking photos is such a crucial part of the night, it's important to plan really cute spots to take photos. 
For a more interactive experience, bowling or laser tag are both exciting activities to do as a group. It'll get the group to team up and work together allowing bonds to make closer friendships. Going go-karting or even axe throwing can spice up the night out. This allows everyone to hang out in a large friend group and can be a nice way to wrap up the night as well. 
"Bowling was a fun time for everyone," senior Victoria Jones said. "We all created tons of memories that night." 
Sadies is a unique experience for everyone, but no matter how one spends it, fun memories are always made.