Men's Varsity Basketball
By Oliver Van Aken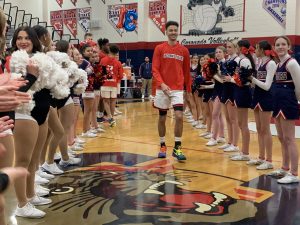 Men's basketball defeated Basic High School 80-57 on Monday, Feb. 3 at home. The following Wednesday, Feb. 5, the Cougars demolished SECTA 97-60 at home. Finally, the men's team lost to Liberty High School 66-71 in an away game on Friday, Feb. 7.
"We had a successful season. We went 9-1 and won our conference which is important," sophomore Daniel Allen said. "We have one goal in mind right now which is winning state and we have a good chance. The season was fun and I'm ready to finish what we started."
Men's varsity basketball had their senior night on Wednesday before playing against SECTA. Multiple senior players were acknowledged for their hard work and dedication over the course of their athletic careers. The Cougars will have their first playoff game on Friday, Feb. 12, at home against an unknown opponent as of now.
Varsity Flag Football
By Wyatt Boyle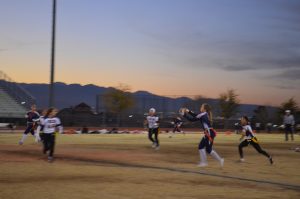 Varsity flag football lost against the Basic Academy wolf pack 13-27 in an away game on Tuesday, Feb. 4. The Cougars were able to lead in the first two quarters but failed to defend against the wolves' strong offense in the second half. 
In the second game of the week, the Cougars defeated the Tech Roadrunners 24-6 on Thursday, Feb. 6. The Cougars started the game strong scoring multiple touchdowns against the roadrunners. With their lead extended, the Cougs dominated the game with a solid defense.
"This game wasn't really challenging," said senior Payton Bard. "We're definitely going to have harder games in playoffs since we're going in as a low seed. It was nice for morale to get a win before playoffs start."
Women's Varsity Basketball
By Ryan Kelleher
The women's varsity basketball team defeated the Basic Wolves 58-35 on the road on Monday, Feb. 3. Senior Gabbie Etopio scored 14 points for the Cougs. In the second game of the week, varsity crushed the Tech Roadrunners 68-25 at home on Wednesday, Feb. 5. The game honored seniors from the women's team and their loyalty and time spent on the team. Women's varsity fell to the Liberty Patriots 72-43 on Friday, Feb. 7. Senior Giuliana Caringella scored 14 points against the Patriots.
"We had a good season," senior Alyssa Fitzpatrick said. "We all worked really hard, and I am proud of my teammates. I loved being a part of the program."
Women's varsity basketball plays again today at 6:30 p.m. at home against Sierra Vista for the first round of regionals.