Varsity Flag Football
By Oliver Van Aken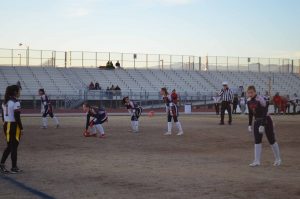 Varsity Flag Football defeated Spring Valley 41-13 on Thursday, Feb. 13, at Bishop Gorman High School in a playoff game. Regional playoffs started throughout the valley on Monday, Feb. 10.
"Overall we are very excited and confident going into playoffs," sophomore Ashtyn Almeido (#12) said. "We all are working very hard at practice and bonding as a team every day. We are all very determined and ambitious to win."
The Cougars previously won the State Championship two years ago during the 2018 season. Flag Football plays again today against Clark in an away game for the Desert Region quarterfinal at 6:00 p.m. 
Women's Varsity Basketball
By Madison Kitch
Women's basketball crushed Sierra Vista in a home game 42-33 on Tuesday, Feb. 11. Then on Thursday, Feb. 13, the Cougars lost against Desert Oasis in an away game 33-74. The Desert Oasis game was the second round of playoffs, so the team will not be advancing.
"Towards the beginning of the season, I was more satisfied with my performance, especially being on the varsity team for the first time this year," sophomore Morgan Dougherty said. "It could have been better, but that's the way it went and I can't change it now that it's over."
The Cougars ended the season 13-13 overall and 4-6 in league. 
Men's Varsity Basketball 
By Ryan Kellher 
The men's varsity basketball team clutched a 86-72 playoff win over the Silverado Skyhawks. Junior Jaden Hardy (#1) had 38 points, 11 rebounds and three steals. Senior Felix Reeves (#5) scored 19 points while senior Dallas Rider (#3) had five points and six rebounds against the Skyhawks. 
"We have to keep working hard if we want to win these playoff games," senior David Cantor (#20) said. "Each game is going to get harder and harder."
Varsity plays against Durango today at 8:00 p.m. at Desert Oasis High School for another playoff match.