Varsity Flag Football
By Bryce Becker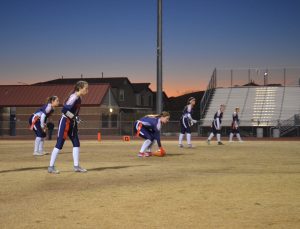 Varsity flag football lost to the Clark Chargers 28-24 in the Desert Region Quarterfinals on Tuesday, Feb. 18. Freshman Jordyn Tribus and sophomore Ashtyn Almeido each scored a touchdown. Fellow sophomore Sophia Bustos scored a touchdown and averaged 18.8 yards per catch. Juniors Rachel Burt and Brianna Lancaster had six tackles respectively. Though the first quarter ended in a tie, the Chargers offense outscored the Cougs with conversion points in the remaining quarters. 
"I think this season was definitely full of growth for our team," Burt said. "There were a lot of new girls this year, and it was just so fun to compare our first game to our last. I think next season our team can improve on the little details during every play, so we can execute each series even better."
The Cougars ended the season 15-5 overall and 6-4 in league. 
Men's Varsity Basketball
By Bryce Becker
Men's varsity basketball lost 77-81 against Durango in the Desert Region Semifinals at Desert Oasis on Tuesday, Feb. 18. Junior Jaden Hardy scored 31 points for the Cougars and sophomore Jaxon Kohler scored 19 points. The Cougs started the game strong putting up 26 points in the first quarter. Durango's strong defense kept the Cougars from scoring more than 20 points in the remaining quarters leading to defeat.
"The season didn't end the way we wanted it to," junior Daniel Allen said. "We had goals that we didn't achieve. Next year we will have another chance to be great. We need to develop early chemistry to play well together, and that's when we are at our best."
The Cougars finished the season 19-8 overall and 9-1 in league.