By Maya Fankulewski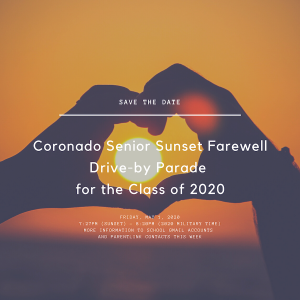 Staff at Coronado High School are hosting a parade for seniors on Friday, May 1. The event was approved by Region, and CCSD police will monitor campus to keep the parade running smoothly. To show appreciation to the seniors, there are yard signs and decorations along the route. 
In front of the school, the seniors will drive through a parade loop while teachers and staff show support and cheer for the seniors. All traffic should remain on the street. The event will start at 7:27 p.m. and end at 8:20 p.m., or 20:20 in military time to honor the senior's graduation year. 
The parade will include: signs, lights, cheering, honking and special recognition for spring sports. Students and family members are expected to stay in their cars while participating in the parade loop. Check back for more updates.
Here is the parade route and other helpful information.