By Aubree Gearhart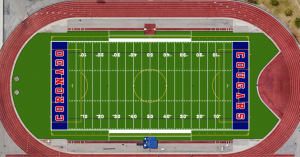 After 20 years of being open, Coronado High School was in need of some renovations. Principal Piccinnini and school administrators took it upon themselves to make some needed physical changes to our campus which included adding new turf on the field, new carpeting through the entire school and library updates. 
"We are very excited about the upcoming upgrades to our campus. Staff have been working since last spring to ensure that our school looks amazing when students return," Piccininni said. "Three projects stand out as highlights of this focus: the stadium field replacement (from grass to turf), the carpet replacement project (new carpet throughout the entire school), and a major library upgrade/redesign. I am proud to say that when students return to campus, our facility will be in it's best shape since the day it was built." 
Like several schools throughout the district, Coronado's football field is upgrading from grass to turf. This remodel was donated to multiple schools thanks to the Las Vegas Raiders. Staff, students and sports fans are thrilled to have a brand new stadium for all it's events.
"The coaches and athletes of CHS are really excited for our new field turf," athletic director, Tyrell Cooper said. "The turf is top of the line material. It's the same stuff that was installed in the new Raiders practice facility. The material of the turf, and the cooling system along with it, will combine to make sure the surface temperatures are not too hot during the summer months. Mr.Piccininni picked out the color scheme for the end zones and it's going to look great. Besides our new turf, the stadium lighting was upgraded to new LED lights. We had a parent donate money to purchase a new sound system in the stadium as well, so the overall experience for athletes, coaches and fans is going to be fantastic."
 Students get access to several resources like, technology, computers, and books from the library. The upgrade helps provide a better environment that's even more equipped to help all cougars. With these upgrades, the library will now be even more practical, enjoyable, and welcoming for both students and staff. Also, after 20 years of all the dust in the carpet, the school finally decided to change out all the carpeting throughout the entire school. 
"The library  is undergoing an exciting renovation," library media specialist, April Pollard said. "I feel privileged to be part of this school community and this transformation."