By Madison Kitch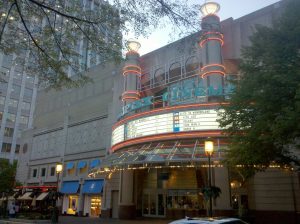 Judd Apatow's The King of Staten Island (2020). John Stewart's Irresistible (2020). Max Barbakow's Palm Springs (2020). Channing Godfrey Peoples' Miss Juneteenth (2020). What do all these movies have in common? They were all released in April 2020- June 2020, and they all made less than $2 million in box office. It's not their quality, -only Irresistible had a low score on Rotten Tomatoes, and Miss Juneteenth currently has a high score of 99%- but rather the fact that they were released during a pandemic.
Coincidentally, April 2020- June 2020 was the most intense part of 'quarantine' for most people; it was a period of time when they couldn't leave their houses because of COVID-19. Businesses that were previously closed due to the pandemic have begun to open back up, but theaters were not as easily given the green light to open their doors. This has severely hurt the film industry.
By mid-April alone, all 5,400 theaters (not including drive-ins) in the U.S., and all 70,000 theaters in China had closed. The domestic box office was expected to be the lowest it's been in 25 years. The economic effects of Covid haven't been good across the board, but they've hit the movie industry very hard
"Ever since movie theaters closed, my reviews havn't been as popular as they were a few months ago," junior Zach Brusa said. Zach writes movie reviews, and you can find him on Instagram @zackattacklv. 
With the theaters closed, many movies were either released on streaming services such as Hulu, Netflix and HBO, or their release date was pushed back. Movies that audiences would have loved in theaters flopped, and there's no way to come back from that. Movies such as Artemis Fowl, Scoob!, Emma and Onward were supposed to premiere over the last few months, but instead they were released on a multitude of streaming services. In return, they didn't make nearly as much as they would have in a traditional theater.
However, not all movies performed poorly. The recent Trolls World Tour (2020) movie premiered on Hulu as the sequel to the massively successful Trolls (2016) movie. Trolls World Tour grossed about $100 million in rental fees. While this is a pretty decent monetary turnout compared to other movies that premiered digitally, it's definitely low. Although $100 million is less than what the original Trolls movie made, Universal reports that the revenue made has been about the same for both of the films. They even had a similar Rotten Tomatoes score (Trolls World Tour's 70% vs. Trolls' 76%), so it's not a matter of quality.
"I mean, sure there's some movies that I wish I could have seen in person, but it's not that big of a deal to me," sophomore Peyton Manriquez said. "Even before the pandemic, I preferred watching movies at home."
While movies and movie theaters have had an apparent setback concerning Corona, that's not to say the rest of the entertainment industry hasn't been suffering as well. T.V. show release dates have been pushed back repeatedly. Shows such as the upcoming Gossip Girl reboot and the long-awaited 11 season of Archer have been pushed back several months.
Besides all of this horrible news, rumors began circulating back in April that the United State's most popular movie theater company, AMC, might have to file for bankruptcy (this article is from April, but it still applies).  If AMC shuts its doors for good, they'd take 661 beloved movie theaters from across the country with them.
Overall, movie theaters are almost certain to reopen when the time comes. Imagine all the awesome movies that will be showing (it'll definitely be a few months worth). It's not a matter of if they'll reopen, it's a matter of when they'll reopen.