By Aubree Gearhart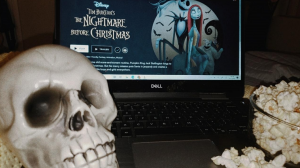 Time to get spooky! These Disney Halloween throwbacks are sure to get anyone in the Halloween spirit. From the classic Halloweentown to the animated and beloved "Nightmare Before Christmas," this list is full of movies that are exciting for everyone. Though each movie is very different in its own way, anyone can be sure to find a movie on this list that's worth the watch.
The Nightmare Before Christmas (1993)
"The Nightmare Before Christmas" is an animated fantasy film directed by Henry Selick. According to Rotten Tomatoes, the film is rated 95% by critics and 91% by audiences. In the movie, we follow the spooky adventures of Jack Skellington (Chris Sarandon), the pumpkin king of Halloweentown. He somehow stumbles upon Christmastown (through a tree trunk, nonetheless), where he falls in love with all the cheer and brightness of the town. Plans to capture Santa Claus and take the role into his own hands make for an exciting storyline.  
"Hocus Pocus" is rated 37% by critics and 71% by audiences. It is a family comedy film directed by Kenny Ortega. In the film, teen Max Dennison (Omri Katz) moves to the town of Salem from California. On Halloween night, Max, his sister Dani (Thora Birch) and their friend Allison (Vinessa Shaw) decide to go explore an abandoned house. While inspecting the house, Allison tells gullible Max a story to scare him, but it turns out Allison's story wasn't fake at all. Max accidentally unleashes an evil coven of witches (Bette Midler, Sarah Jessica Parker and Kathy Najimy) that used to live in the spooky, abandoned house. Now they must try to steal the witches' spell book in order to stop them from becoming immortal and terrorizing the town forever. 
"Halloweentown" is a family comedy film directed by Duwayne Dunham. According to Rotten Tomatoes, the film is rated 80% by critics and 72% by audiences. In the movie, Marnie Piper, (Kimberly J. Brown) along with her younger siblings Dylan (Joey Zimmerman) and Sophie (Emily Roeske), take a whimsical trip to see their grandmother (Debbie Reynolds) who is a witch in Halloweentown. In this town, odd creatures live shockingly normal lives. On Marnie's 13th birthday, she learns that she too is part witch, and she must use her powers to fight the evil mayor, Kalabar. 
"Girl vs. Monster" is not yet rated by critics but is rated 57% by audiences. It is an adventure film directed by Stuart Gillard. In the film, Skylar Lewis (Oliva Holt) learns that her parents are monster hunters after she accidentally releases a monster from a containment chamber in their secret lab. The monster that was released is now out for revenge. Skylar and her friends, Sadie (Kerris Dorsey) and Henry (Brenden Meyer), have to capture the monster with her parent's gadgets in order to save themselves and Skylar's parents. 
"Twitches" is a family fantasy film directed by Stuart Gillard. According to Rotten Tomatoes, the film is rated 60% by critics and 65% by audiences. In the film, lost twins Alex (Tia Mowry) and Camryn (Tamera Mowry) are reunited on their 21st birthday. When Alex and Camryn are reunited they learn that both their bizarre powers are double the strength when they work together. They use their powers to save the world where they were born and where their birth mother still resides. 
Disney does a phenomenal job making these spooky movies come to life. These are all amazing films to get you into the spooky season spirit! Grab the Halloween treats, and cozy up for a spine-chilling movie night.