By Valerie Perez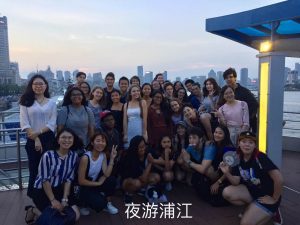 Before Mrs. Wang started her teaching career in the U.S, she lived a completely different life in a completely different country. It wasn't until until she graduated college she realized she wanted to start a new life in the states teaching Chinese. 
Mrs. Wang grew up in China, living in their native customs. She went to school and focused on her grades, which isn't much different than students here. For Mrs. Wang, English was just a class that she had to take in school, but it wasn't a common language that anyone spoke. 
Mrs. Wang was raised as an only child, living in Jilin Province in North-Eastern China, where families are only allowed to have one child. Her average day consisted of ten hours at school, but school for her was a bit different than it is for American students. The school's philosophy was for students to be focused on school and avoid distractions like sports and extracurriculars. Their goal was to prevent students from earning anything less than exceptional grades, so she was given extensive amounts of work each day to ensure her grades were perfect. Students were also required to wear uniforms, and girls were prohibited from having long hair or wearing any makeup. 
"I'm glad the school system was set up this way," Mrs. Wang said. "It helped to keep me focused and concentrated on my grades."
After completing highschool, Mrs. Wang attended college in China where she was given an opportunity to attend an exchange student program located in New Jersey. After accepting the offer, she moved to Rutgers University for a year, completing her education in the U.S, adapting to the new culture and most importantly learning how to speak English fluently.
When Mrs. Wang decided she wanted to leave her home, her family and friends were surprised to hear the news because it wasn't often when people left. Since her decision was unusual, some of her family members looked down upon the act of leaving, though Mrs. Wang was confident in her decision to learn and gain more opportunities in the U.S. 
"It was a difficult transition moving from China to the states," Mrs. Wang said. "When I arrived, speaking English was much harder than I thought it would be. Learning basic vocabulary from the textbook is one thing, but putting everything I've learned together in a way Americans can understand is a different story."
After deciding she wanted to stay in the U.S, Mrs. Wang completed her studies and received a Masters of Education in foreign language. She decided to settle down in Las Vegas where she found a job teaching Chinese. 
"I found a passion in teaching Chinese," Mrs. Wang said. "I love how I am able to teach and share my culture with students who share the same passion in learning a new language."