By Aubree Gearhart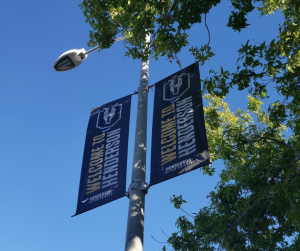 The Silver Knights hockey team is stampeding into the Henderson community. The Silver Knights are a minor league hockey team that was bought by Black Knight Sports entertainment, and they are currently playing this season at the Orleans Arena. Starting in the 2022-2023 season, the team will move homes and play at the Henderson Events Center. For the Henderson residents, the arena has been a big topic of discussion as not everyone agrees on it being the smartest decision for the city. 
"I think the Silver Knights are a good addition for other individuals wanting to play hockey competitively for Nevada," sophomore Gabby Palmisano said. "It also gives the community a chance to go out for more sporting events, making a greater community for all of us in Henderson." 
Golden Knights fans are especially excited to have a new team to cheer on and support. Henderson residents are stoked to have a minor league hockey team right in the heart of Henderson. The team currently practices at The Lifeguard Arena on Water Street. Eventually they will be able to play at the new stadium that is currently being built on Green Valley Parkway and Paseo Verde Parkway, where the former Henderson Pavillion stood.
"It's really exciting to have the opportunity to have a professional team that is based out of Henderson," gym coach Mrs. Barton said. "I'm looking forward to going to the games in the brand new stadium that's being built not too far from my home. My husband and I love watching the Golden Knights and can't wait to support another professional team right here in our own backyard!" 
Some citizens have mixed opinions about the Silver Knights coming to town. There are many pros and cons with the new addition to Henderson. Many Henderson residents believe that the team coming to town could possibly raise taxes, among other concerns. 
"I have mixed feelings about the Silver Knights coming to Henderson," Henderson resident  Cathy Jones said. "On the one hand it will provide more jobs and tourism, but  on the other hand, it will raise taxes and change the beautiful town of Henderson of which may not be a good thing." 
Overall the Silver Knights are a hot topic of discussion at the moment since not everyone agrees on the team coming into Henderson. Golden Knights fans are happy to have a new team to cheer on. Others are concerned that the team coming to town may raise taxes.Despite the conflict, the team is here to stay.