By Ellis Sondrup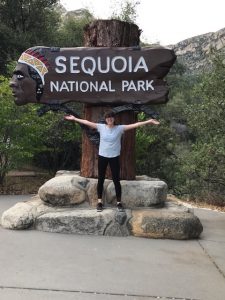 Only two students in the state of Nevada were awarded the Congressional Gold Medal for Youth this year, and one of them was Coronado's very own, senior Zoe Toussaint. Toussaint has been awarded the bronze, silver and gold certificates along with the bronze, silver and gold medals, showing her character: dedicated, driven and passionate. 
"Zoe is a very unique young lady, soft-spoken with a work ethic like a jackhammer," Toussaint's advisor Mary Krevosh said. "She is kind, thoughtful and intelligent with an appreciable mindfulness that considers how her actions affect the world." 
400 hours of community service, 200 hours of physical activity, 200 hours of personal development and a five-day exploration trip over a minimum of two years is required to achieve the Gold Congressional Medal for Youth offered by our congressmen. Kids can start as young as 13 ½ and must complete the program by the time they are 23. Zoe completed it in two years, finalizing her project during the pandemic. She and other recipients across the nation will be recognized in June of 2021, with a ceremony held in Washington D.C., pandemic permitting.  
"I was very excited when I found out my application [for the Congressional Gold Medal] had been accepted," Toussaint said. "I have gotten so much support from family and friends. The only downside is not being able to see my friends to celebrate it."  
The award is the highest award given by the U.S Senate and House of Representatives to the youth of the country. It is not so much won, but achieved, as it's centered on personal growth with a mentor signing off on achievements that the participant reaches. Mary Krevosh introduced the award to Zoe and became her mentor. Toussaint, however, had to put in the work to achieve the award herself. 
"When she learned about the Congressional Award, she read the guidelines, signed up and immediately began recording time spent in each of the four categories. I became Zoe's program monitor, certifying her hours and talking out ideas and plans for moving from each certificate, Bronze, Silver and Gold – to the Bronze, Silver and Gold Medals.  The hours are cumulative, building on each level to the next.  Zoe will receive all three certificates and all three of the medals," said Krevosh. "The award is not 'won', rather it is earned through completion of self-set goals for a period of time, recording of the time spent and having your advisor 'sign off' on the record."
Toussaint is no stranger to hard work. Balancing track and field, volunteering and working a part-time job did not stop her from accomplishing this project she has been working on since eighth grade. Toussaint, now a senior, was able to manage her time well and enjoy the process of completing this application. 
"I did put a lot of work into this achievement, but I spread it out so I could manage the workload along with school. I had worked on this award since the eighth grade, so I had a lot of time to complete it," Toussaint said. "My favorite type of work was volunteering at St. Rose hospital every week. Other activities I did included track and field, working a part-time job, and taking a hiking trip in California." 
Through this award, Zoe has set herself apart as a leader within Coronado and the community. Her achievements on this national level have highlighted her character and work ethic while also pushing others that follow to do the same. As the first student at Coronado High School to achieve this award, she blazes a trail for those to follow after her. 
To learn more about the Congressional Medal program, visit https://www.congressionalaward.org/program/.