By Madison Kitch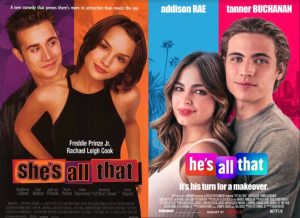 Everyone's cinematic hot takes have something to do with remakes. Whether they're bashing it for being sloppy (Ghostbusters), or giving it an ounce of praise for being somewhat creative (Jumanji: Welcome to the Jungle), remakes have been on all movie-goers minds. That's where stupid rich TikTok star Addison Rae comes in. 
Recently, Addison Rae has taken her newest foray into an industry besides social media: Hollywood. This led to the unfortunate (but predictable) remake of  She's All That which was also an unfortunate and predictable movie. 
To properly mock He's All That, we must first revisit 1999's She's All That. Zach Siler's (Freddie Prinze Jr.) girlfriend leaves him, and his confidence is gone. To make himself feel better, he takes a bet that he can turn the school outcast into Prom Queen. In doing this, he learns that he really does love Laney (Rachael Leigh Cook)– naturally, after a makeover where she takes off her glasses, slaps on some makeup, and gets a decent haircut. Honestly, I don't know how other students could stand looking at just another clone of a basic girl in every coming-of-age movie. I was holding out hope that Addison Rae, a known individualist who never follows trends, would add a twist to the yearly adolescence movie, but ironically she's just like every other girl. 
My main issue with She's All That is that it's boring and dumb. The message of the movie is basically that if you're already pretty, the hot guy will fall for your weird delusions and stay for your charming, introverted personality (coincidentally, this is how many people describe me). However, it's not committing a crime. It is a not-completely-terrible love story (if you exist outside of reality) with Sixpence None the Richer's "Kiss Me" as the wonderful featured song. Freddie Prinze Jr. and Rachael Leigh Cook have genuine onscreen chemistry. 
I thought it couldn't get any worse. I thought we, as a collective society, were done with movies about betting on other people (multiple franchises should not come to mind). I wish I could go back to a time before August 27, the day He's All That dropped on Netflix. The aforementioned mess has the same premise as She's All That, except it's been gender-swapped. Social media star Padgett Sawyer (Addison Rae) walks in on her boyfriend Jordan (Peyton Meyer) cheating on her, and the entire event is unintentionally live-streamed to Sawyer's millions of followers. Soon Padgett is both an online and high school mockery, and the only way to boost her confidence is to make the ugliest, most weird outcast Cameron Kweller (Tanner Buchanan) into the next Prom King. She soon finds that he's actually pretty normal and begins to fall for him, but things take a predictable turn for the worse when Cameron finds out he was a bet.
Movie-wise, He's All That checks every Netflix original teen movie box: refreshingly basic, conventionally attractive stars, and a main character you want to punch. Unlike its predecessor, the stars of He's All That have little to no chemistry. The creative team tried to shove in a moral lesson about how social media is fake and how you should be true to yourself (blah blah, who cares), but it has one of the most famous social media stars on the planet for the lead role. The irony of that is so blinding. I need sunglasses just to think about this for more than five seconds. 
The movie (should I even call it that?) also has some hilariously bad product placement. Within the first five minutes, I couldn't breathe because of the number of times they shoved a brand in every scene they possibly could. If they had even a few less advertisements, it wouldn't be so bad, so whoever did this deserves jail time. The Pizza Hut boxes and Bounty paper towels spread like an illness. Those CORE water bottles (you know the ones) are practically paid actors. 
Overall, He's All That is a bad remake that no one needed, but what rich people want (an acting career), rich people get. This would have been a little enjoyable if the two stars had chemistry, or even if the main character was played by literally anyone else. If you decide to descend into the dumpster fire that is this movie, I suggest watching it with your eyes closed.