By Brianna Gracia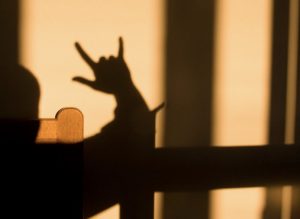 The Sign Language Club is back for the new school year! Sign language is an incredibly valuable skill to learn and is now available to Coronado students. In need of something to add to your resume? Maybe you just want to learn a new language? Well, look no further! Sign language is actually ranked the third most used language in the US. 
"My mother said that I started signing at three months. It was simple things like 'more,' 'food,' or 'pain," but that's where it started," Sign Language club advisor Mrs. Lee said. "I became an interpreter for my mother." 
Sign Language has always been a major part of Mrs. Lee's life. In fact, it is actually her first language. When she was attending school, she began to teach others how to sign. 
"I taught future educators Sign Language while attending school. My platform became Deaf Representation in pageantry, education, and film," Mrs. Lee said. 
Sign Language has influenced the lives of many. One in eight people has some form of hearing loss in both ears, according to the NIH. Three in one thousand infants are born with some form of hearing loss. Surrounding these students with peers who also speak Sign Language would make the environment so much more inviting and inclusive. 
Sign language truly has opened up opportunities for both those in and out of the deaf community. It's a wonderful skill to have in one's toolbelt for both job opportunities and communication purposes. Today, one million people in the US use American SL as a form of communication; become one of those people! 
"I just want students to learn how to bring these skills into the real world to spread kindness. Isn't that what it's about? Allowing all to enjoy sports, events, and entertainment," Mrs. Lee said. This club opens doors for students who have an interest in SL. I've even had students who've gone on to teach sign language themselves," Mrs. Lee said.
Interested in being a part of the Sign Language Club? Feel free to stop by room 204 on Tuesdays at 2:15 after school, and expect to stay until 2:45-3 pm. Can't wait to see you there!