By Emma Barton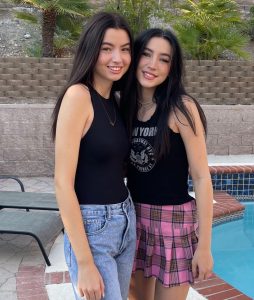 Fashion week took place September 17-21 in New York City, foreshadowing what trends will be seen this fall. From Paris to Milan, everyone was able to view the bold statements making a comeback. 
Forget last season's blazers and jackets and switch them with power pants. Companies such as Zara and Levi just came out with patterned pants to make head turns. Many celebrities who attended this year's Fashion were spotted wearing these types of pants with light jackets and heels. 
"Power pants are my favorite fashion trend this year. This is a unique piece that can be dressed up and can also be styled to look like streetwear," Erin Barton 10 said. 
Black leather jackets have been a staple in fashion since the seventies. Recently, black leather blazers have been taking over. These pieces are super chic and can be worn with a belt. Celebrities such as Addison Rae and the Kardashians have been wearing these blazers. 
We are no longer staying home wrapped up in a blanket, but we can still leave the house as if we were. Knit dresses are super comfortable to wear and will give you that sophisticated look to take on the day. Brands like Revolve have made super cute knit dresses that are easy to style with boots, sandals, and heels. 
It's no surprise to us all that baggy jeans are back in style. This super simple street wear can be dressed up by rolling them up to the hem so you lose that basic look. I'd recommend pairing these jeans with a light jacket and sneakers or a crop top with flats. 
If you haven't bought a mini skirt yet, I'd say it's time to add one to your wardrobe. With the cooler weather, it's the perfect time to wear them. When the weather gets colder you can easily pair this with a blazer for a more weather-appropriate outfit. 
Men, it's time to get rid of your autumn suits and bring out the sleeve vests. These vests come in all different colors and patterns so you won't be the only one turning heads. Women can also use this trend for a more sophisticated look in the work field. 
"I love vests. I think they're super classy,"  John Vento 10 said. 
Fashion is such a beautiful way to see how everyone expresses themselves. It'll be exciting to see how these pieces of trending clothing will be transformed into a canvas of self-expression.