By Emma Barton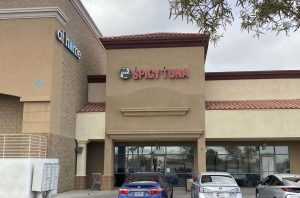 Sushi is a Japanese cuisine that has become an American favorite. In Henderson, there is almost a Sushi place every two blocks, and I made it my goal to find the top five best spots to get sushi. 
Spicy Tuna is located on Eastern Ave right next to Traders Joe's. This restaurant has a variety of rolls and appetizers that don't disappoint. My personal favorites are the spicy garlic edamame and the Anthem roll. Both are packed with flavor and are extremely tasty. The place is pristine and has never felt as if something was unsanitized or poorly cleaned. The service can be a little slow at times due to how many people are dining in. Prices are extremely reasonable. Overall, this place earns a 4.3 star and I would recommend trying it. 
I Love Sushi is a popular sushi spot on Eastern Ave. As soon as I walked into the restaurant it felt as if I was in Japan. The waitresses are dressed in traditional kimonos. Once seated, I was given complimentary edamame and cucumber salad. Their menu has a huge variety of different rolls and even non-sushi items. Menu items are marked at a very fair price. My personal favorite roll was the spider roll. Even during a dinner rush, food comes out relatively fast. The restaurant feels very sanitary. Without a doubt, I Love Sushi deserves 4.8 stars. 
Sushi Wa is a Coronado favorite without a doubt. This restaurant is smaller compared to other sushi restaurants. At Sushi Wa, prices are very low, but the quality of the food is extremely good. The kids' rates here are super affordable. If you plan to have children in your party, I would recommend choosing this restaurant. When going to Sushi Wa I highly recommend getting their mocktails. My recommendation is the Lychee mocktail. It tastes like being on a tropical island. The restaurant is overall very clean, and I'd give it a 4 out five- star rating. 
"I enjoy coming to Sushi Wa, because it is faster than most places,"  senior Zach Katz stated. 
 MoMo Sushi on Stephanie is a must-eat. Every day, there are new chef specials to choose from. Eating at the sushi bar is a must. The chefs are so nice and will actively engage with you throughout your meal. The All-you-can-eat menu ranges from $11-30. Depending on which price you choose for all you can eat, you can get limited menus or a full menu. Service can be slow during a rush. 
Sushi Mon located on Maryland Parkway is my family's favorite. The service is always top-notch. The menu has over fifty different types of sushi rolls. I would recommend getting the lemon roll. It has super fresh fish inside the roll and a little lemon on top, making this roll super refreshing. One of my favorite non-sushi items is the garlic edamame. Prices are a little higher than the other four restaurants, but you are paying for what you get. The service here is friendly and inviting. The vibe at this restaurant is like no other, and I really recommended coming here. I'd give Sushi Mon a 4 out 5 stars. 
I encourage you to try any of these places. They are all unique in their own ways, and will definitely leave you satisfied.