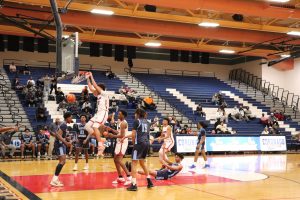 Men's Varsity Basketball 
By Emma Barton 
After playing teams all over the country our men's basketball team made it back home to play Canyon Springs on Jan. 14. Thanks to all their hard work and dedication, we were able to defeat the Pioneers 89-59. 
The intensity of the game was palpable. Canyon Springs shouted many cheers to distract our players. The plan was ineffective and we stayed ahead of the game the whole time. 
"It was really hard to have good sportsmanship throughout the game," senior Stone Mactagone (#25) said. "It's not easy to keep your head up when another team is mocking you."
Throughout the game, there were many memorable moments. Osiris Grady (#11) dunked on the other team. Our amazing cheerleaders kept spirits up by encouraging the boys to do their best. However, the most impressive part of the night was being able to beat the Canyon Springs Pioneers by 30 points. 
"Watching Osiris dunk never gets old," junior Ellie Pack said. "It gets everyone amped up and is honestly one of the best parts of the game." 
Catch the men's basketball game at Liberty High School on Jan. 21. They will be playing Liberty.
Women's Varsity Basketball 
By Aubree Gearhart 
The Coronado Cougars women's varsity basketball team took on the Desert Oasis Diamondbacks. Both teams played well, both with a variety of high scorers during this game.
Not only did the Coronado Cougars play very competitively with a variety of high scorers during this game, but the team also made a lot of plays in transition and maintained high energy both on and off the court. 
"Right out of the gate, our team played with fantastic chemistry," senior Morgan Dougherty said. "This was probably the best game we've played so far and a vast improvement compared to the last time we played against Desert Oasis." 
The Cougars had many blocks and steals and also made several 3 point baskets. The Cougars lost by four points with the final score being 52-56.
"There is always room for improvement," sophomore Sunny Li said.
Catch your Lady Cougars in action Thursday, Jan. 20th at 6:00 pm against the Liberty Patriots at Liberty High School. 
Women's Flag Football
By Addison Stanton 
On Thursday, January 13, Coronado's Varsity Flag Football team took on Bishop Gorman and lost 31-14.
"I think that our performance was good, but we could have done better," junior Isabella Lang said. "Gorman was 9-1 and for us to keep up with them and hold them off was pretty impressive."
The game was expected to be one of the biggest games of the season. The skill between the two teams made for a very good and equal match. For a while, Coronado held their ground until Gorman took the ball down for two more touchdowns and won the game.
"Yes this game does affect our state appearance and our record, but if we win our next state conference games, I think we have a chance of making it to regionals," junior Izabella Lang said.
Coronado will be facing Silverado at Coronado High School on Friday, January 21st, at 4:30.