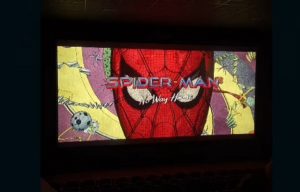 By Maya Fankulewski
(This is a warning that major spoilers will be discussed in this review) 
After many months of eager anticipation, Spider-Man: No Way Home made its way to theaters on December 17, completing the trilogy of Spider-Man films in the Marvel Cinematic Universe. It received a 93% rating from Rotten Tomatoes and a staggering 98% from viewers. Spider-Man: No Way Home is the 8th highest-grossing movie of all time, as it earned roughly $1.53 billion worldwide, making it the third most successful Marvel movie. 
This film depicts the growth of the main character, Peter Parker, who is portrayed by British actor Tom Holland. When Peter Parker witnessed the death of Tony Stark (Robert Downey Jr.) in Avengers: Endgame (2019), it placed a lot of responsibility on himself, as he no longer had his adopted father figure (Iron-Man) to guide him. Without assistance and advice from Tony Stark, Peter Parker had to fight super-villain Mysterio (Jake Gyllenhaal) completely alone in the film Spider-Man: Far From Home (2019). As seen in the trailer, Peter Parker's identity as Spider-Man was leaked by Mysterio. Now that the whole world knows who Spider-Man is, Peter Parker has to make risky decisions and huge sacrifices in order to keep his friends and the entire world safe. 
Spider-Man: No Way Home has so many plot twists and unexpected side characters that it's guaranteed to make your jaw drop the first time you watch it. There was a perfect amount of comic relief mixed in with all the heartbreaking moments throughout the film. Now that everyone knows who Peter Parker is, we see him struggle to get accepted into colleges, complete high school, hang out with friends, and live a somewhat normal life because of all the controversy and rumors about Spider-Man.
Although he is the third actor for Spider-Man, award-winning actor Tom Holland does not disappoint audiences with his ability to perfectly portray Peter Parker- a nerdy heroic teenager with a double life. SMNWH had a lot of hilarious scenes and gut-wrenching moments. When Aunt May died, Tom Holland's act of grief from Peter Parker felt so real and raw that it had everyone in the movie theater tearing up. When comparing this film to Spider-Man: Homecoming (2017), we can really see how much Peter Parker has grown. He acts more serious and less trustworthy, especially after witnessing the death of Iron-Man in Avengers: Endgame (2019) and his Aunt May. He now has no one to ask for advice or for help, he can only rely on himself. 
The CGI in Spider-Man: No Way Home played a big contribution to bringing the film to life. Compared to the CGI in the very first  Spider-Man (2002) movie, (portrayed by actor Tobey Maguire) it's incredibly noticeable how far technology in the film industry has come, and how it drastically affects final results. This is especially noticeable with the Green Goblin (Willem Dafoe) who is a villain in both Spider-Man (2002) and SMNWH. The scenes that show Spider-Man swinging around and fighting super-villains look so realistic that it's easy to forget it's all just stunt-doubles and CGI, and Tom Holland is not actually swinging through New York City with real-life web-shooters to film these scenes.
At this point, it's probably not even a spoiler that the two previous Spider-Men (portrayed by actors Tobey Maguire and Andrew Garfield) made an appearance near the end of SMNWH. There were rumors about this even before the film was released, as fans suspected the iconic comic-book drawing (now a meme) of three Spider-Man pointing at each other would foreshadow the movie. This now confirms that the multiverse does exist within the Marvel Cinematic Universe. Iconic villains from the comic books and the first two Spider-Man movies such as the Green Goblin and Dr. Otto Octavious (Alfred Molina) made surprising entrances into the film. With so many surprising characters from the previous Spider-Man's, there were a lot of plot twists and memorable scenes that left fans speechless. 
SMNWH is unique and distinct from any other Marvel film, which makes it such a popular movie. This is the first Marvel film ever to present the main character fighting villains from a completely different realm of reality. Not only that, but getting to see all 3 Spider-Men (Tobey Maguire, Andrew Garfield, and Tom Holland) together was heartwarming for diehard fans and something that will always make this movie stand out. Out of all the 27 Marvel films and 8 Spider-Man movies, Spider-Man: No Way Home had some of the most surprising plot twists, iconic characters, hilarious moments, and devastating scenes. This movie is still in theaters and will appear on Disney+ by the end of January, so there's no reason to miss out on the web action.