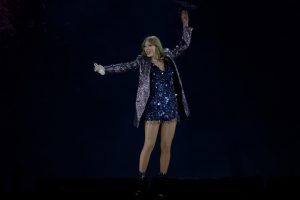 by Aubree Gearhart
Taylor Swift was recently brought to court in a lawsuit for allegedly stealing the lyrics "players gonna play" and "haters gonna hate" from her hit song 'Shake it Off. This song is from her 2014 award-winning album '1989'. Swift has filed to dismiss the lawsuit after an "unprecedented ruling." Swift's attorneys argue that it is "cheating the public domain." The public domain includes every creative work that is no longer copyrighted, meaning the work is free for anyone to use. 
Taylor is asking the judge to call off a planned jury trial, saying that the judge's ruling against her is unprecedented. The allegations state that Taylor stole the lyrics to 'Shake It Off' from an earlier song about "playas" and "haters". The court refused to dismiss the lawsuit that allegedly claims that Taylor took the lyrics from an earlier song titled "Playas Gon' Play" by the group 3LW. Swift's attorney urges the judge to reconsider his decision. 
"I know she's a huge singer and public figure and these types of accusations are bound to happen,"  sophomore Sydney Morrison said. "I think that Taylor is so original and creative with her lyrics that she obviously didn't mean to 'steal' the lyrics. If 3LW does win the case I don't think I would be super surprised, and I think that it is a possibility that Taylor would lose and would get sued."
During the filing, Taylor's attorneys argued that no other court would have allowed a case like this to proceed to trial. The case was filed against Taylor in 2017 by Sean Hall and Nathan Butler, the writers of "Playas Gon' Play". The song from the 3LW is about staying loyal and true in a relationship while everyone else is hating on the relationship. In the song "Playas Gon' Play" the line that Swift allegedly stole was "Playas they gonna play" and "haters they gonna hate". In her song 'Shake It Off' Swift sings "Cause the players gonna play play play play play and the haters gonna hate hate hate hate hate". 
"I don't know much about the lawsuit," senior Hunter Samlaska said, "but Taylor Swift is an original icon. She has never stolen lyrics or ideas before, and if she did, it was likely subconsciously." 
Shake It Off was debuting at No. 1 on the Billboard Hot 100 charts in Sept. 2014 and spent four consecutive weeks in that spot; 'Shake it Off' ended up spending fifty consecutive weeks in the No. 1 spot on the Billboard Hot 100 charts, tying with Swift's "You Belong With Me" for the title of longest–charting single. On Dec. 9th, the judge refused Taylor's request to toss out the case; he argued that it was "too close to call", and ultimately needed to be decided by a jury of Taylor's peers. In a statement to Billboard, an attorney for Hall and Butler dubbed Swift's Motion "groundless." 
"I believe that quotes like 'haters gonna hate' and 'players gonna play' are way too commonly used for someone to claim to own it,"  junior Paige Oden said. "I feel that the people that are suing Taylor are after the money behind the song." 
As of now, this is all the information that has been released about the case. A hearing for the judge to reconsider his ruling is scheduled to take place on Feb. 7th, 2022.