By Oliver Van Aken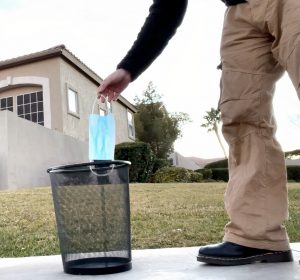 Governor Steve Sisolak revoked the state-wide mask mandate on Thursday, Feb. 10. Sisolak claims his reasoning is that Nevada needed a new push forward and that the entire state population shouldn't be held back by the unvaccinated minority in terms of virus regulations. However, there is a public opinion that Sisolak spontaneously lifted the mask mandate in order to raise his approval in time for a potential gubernatorial reelection during midterms.
"I was shocked when I saw on my phone that the Governor lifted the mask mandate," sophomore Lily Moncrief said. "I was just sitting in my history class and everyone started talking about it."
The mask mandate is lifted for all Nevada residents, regardless of vaccination status, although, individual businesses and school districts can decide whether to institute their own facial covering requirements. Clark County School District (CCSD) has commented that they stand with Sisolak's legislative action and will no longer enforce masks in public schools starting Friday, Feb. 11. However, public transportation systems such as buses, planes, trains, etc. still require masks under federal law. The Nevada State Gaming Board notified individual casinos that they do not have to require facial coverings any longer.
"I know some people are upset about the lack of a mask mandate," senior Nathan Skjervheim said. "but I for one am glad I get to see my classmates and teachers' faces again.
The Center for Disease Control (CDC) has stated that states loosening virus protocol is premature. Within the past 90 days, Nevada has seen a rise in case numbers, peaking with 23,728 new cases being reported on Jan. 18. The current daily average of case numbers within the valley is 1,313. In contrast, Governor Sisolak said his Nevada state health officials are aware of the data, but believe lifting the mandate is the correct progression for the state.
"I think we should remain masked because there are 3,000 people here- we're the size of town," senior Izzy Gensler. "If populations that large in other places have to wear masks, Coronado students should as well.
Since the beginning of the pandemic back in March 2020, facial coverings and masks have been required on local, state, and federal levels off and on. People have become tied to their masks, with the cloth becoming part of their fashion style and even public identity. It will be interesting to witness the conflicts or compromises met in the halls as students remain masked by choice or show up full-faced.